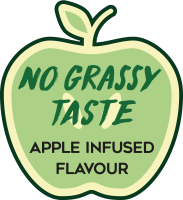 Our unique and nourishing Supergreens blend is bursting with powerful Superfoods, including wheatgrass, spirulina, barley-grass, kale and chlorella. It's also fortified with vitamins B12, C and E, all packed into a convenient powder so it's easy for you to use in everyday foods or even just mix with water. Supergreens' great flavour comes from apple powder and subtle spices, so now it's even easier to eat your greens!

No time to spare? Just mix 2 teaspoons (10g) with 200-300ml of water for a great tasting, nutritious drink anytime of the day.

For an energy boost at the start of the day blend 1-2 teaspoons into your breakfast smoothie. If your blender's not handy, simply swirl through your porridge or yoghurt.

Get inspired to use Supergreens in everything from pancakes to salad dressings with our host of recipe ideas.