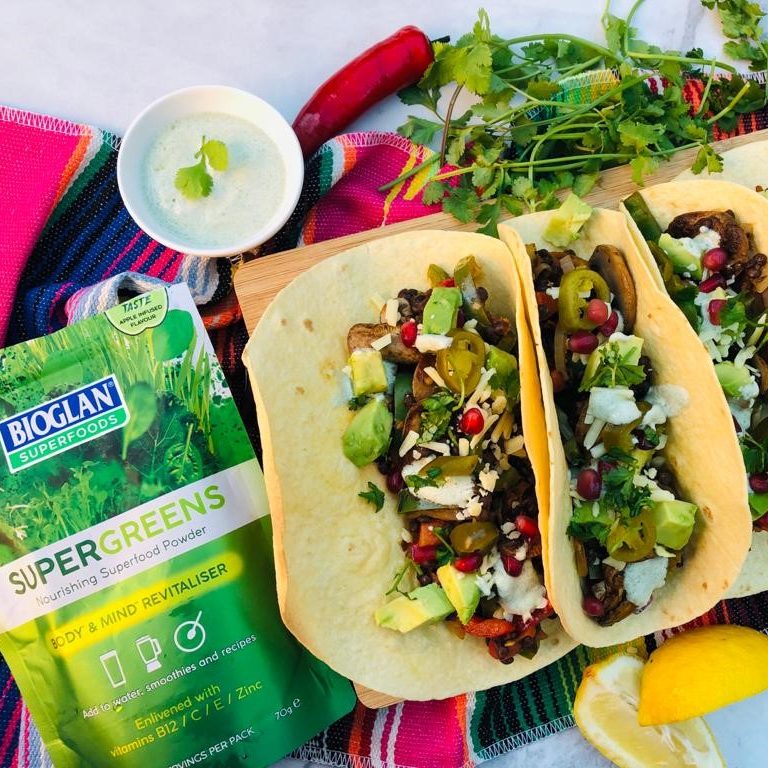 Veggie Tacos
with Supergreens

4

Twenty Minutes
These Veggie Tacos with Supergreens are bursting with tasty veggies and make a perfect, healthy dinner. To make them vegan, simply swap the cheddar for vegan cheese.
Ingredients
Buy ingredients online at your selected retailer
1 tbsp olive oil
200g sliced mushrooms
100g cooked puy lentils
½ red pepper + ½ green pepper
¼ sliced onion
½ avocado, diced
2 tbsp pomegranate
Grated cheddar (optional)
Jalapeños
3-4 tbsp almond yogurt
1tsp Bioglan Superfoods Supergreens
Lemon wedges for serving
¼ tsp thyme
¼ tsp paprika
Salt & pepper to taste
4 corn tortilla wraps
Method
1. To make the filling, fry the onions, mushrooms & peppers in 1tbsp olive oil and season with salt and black pepper to taste. Also add ¼ tsp thyme & ¼ tsp paprika. Once cooked, stir in the cooked puy lentils.
2. To make the tacos, put four corn wraps folded over into the oven for 5-10 min until it cooks/hardens up a little (or follow the cooking instructions on the pack). Alternatively, you can use ready to eat hard taco shells.
3. For the greens dressing, mix the yoghurt and Supergreens together. Season with black pepper if desired.
4. Fill the tacos with the mushroom mix then top with jalapeños, pomegranate, cheese & dollops of the greens dressing. Enjoy!