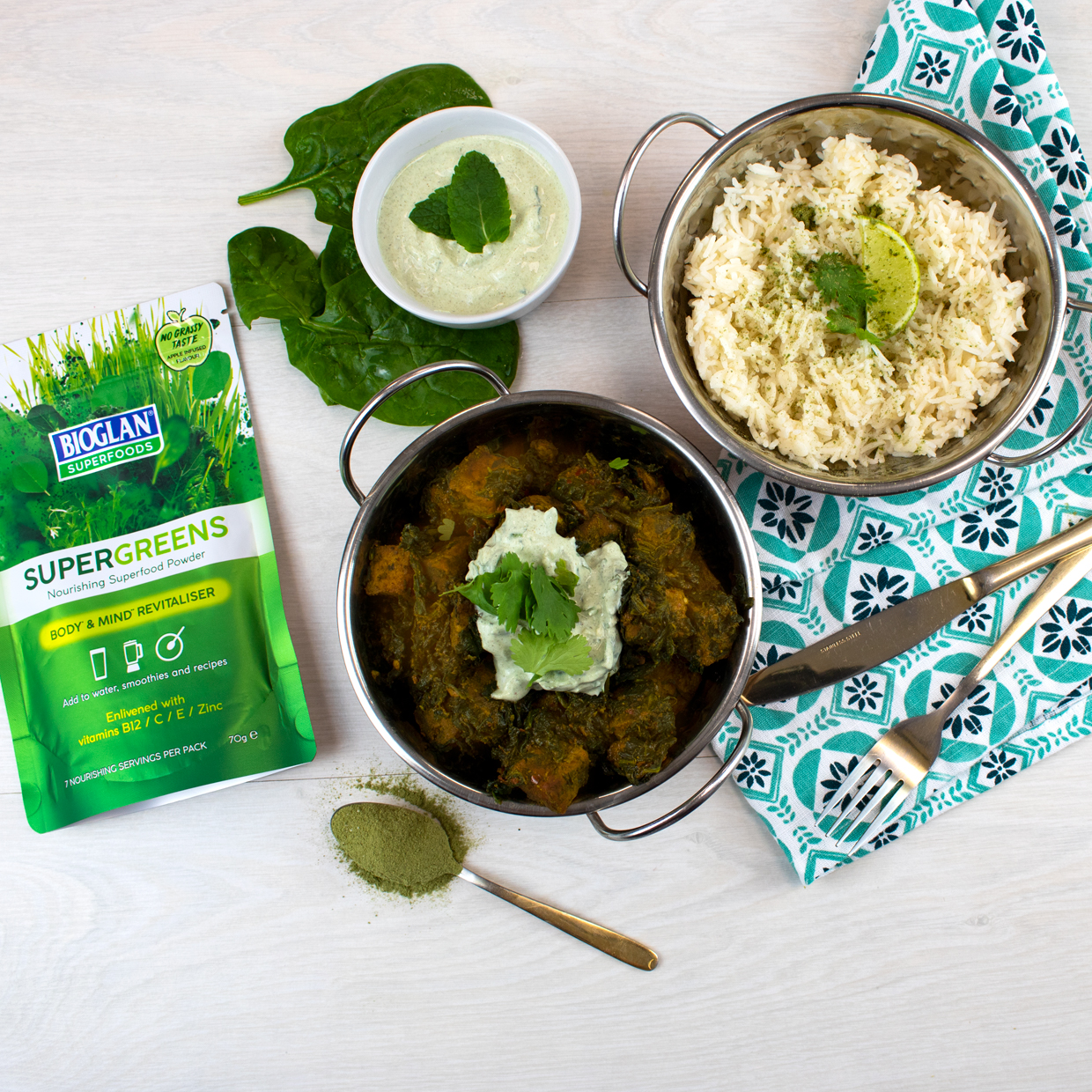 Palak Paneer with Raita
with Supergreens

Serves 2

Thirty Minutes
Is your New Year's resolution to add more greens to your meals? This super tasty paneer with spinach and our Supergreens powder is a delicious way to super power your dishes with a hint of chilli.
Ingredients
Buy ingredients online at your selected retailer
500ml sunflower oil
500g Paneer
200g spinach, roughly chopped
1 tbsp butter
1 tsp turmeric
1 tsp chilli powder
1 tsp asafoetida
1 tbsp Supergreens
1 tsp ginger paste
1 tsp chilli paste
1 tsp garam masala
For the raita:
200g Greek yoghurt
1 tbsp Supergreens
1 tsp garam masala
½ cucumber
¼ packet of mint
¼ packet of coriander
Juice from 1 lime
Method
Cut the paneer into cubes and fry in the (heated) oil. Add the butter to a pan and mix in the turmeric, chilli powder and asafoetida until it forms a paste. Add the paneer and cover it in the paste. Once fully covered, add the chopped spinach and allow it to wilt. Once wilted, add in the Supergreens powder, ginger and chilli paste and garam masala and mix well.
Serve with our Supergreens Raita:
Combine the Greek yoghurt with the Supergreens powder and garam masala. Chop up the cucumber into small chunks and mix into the yoghurt with the coriander and mint and squeeze in the lime juice before mixing together well.