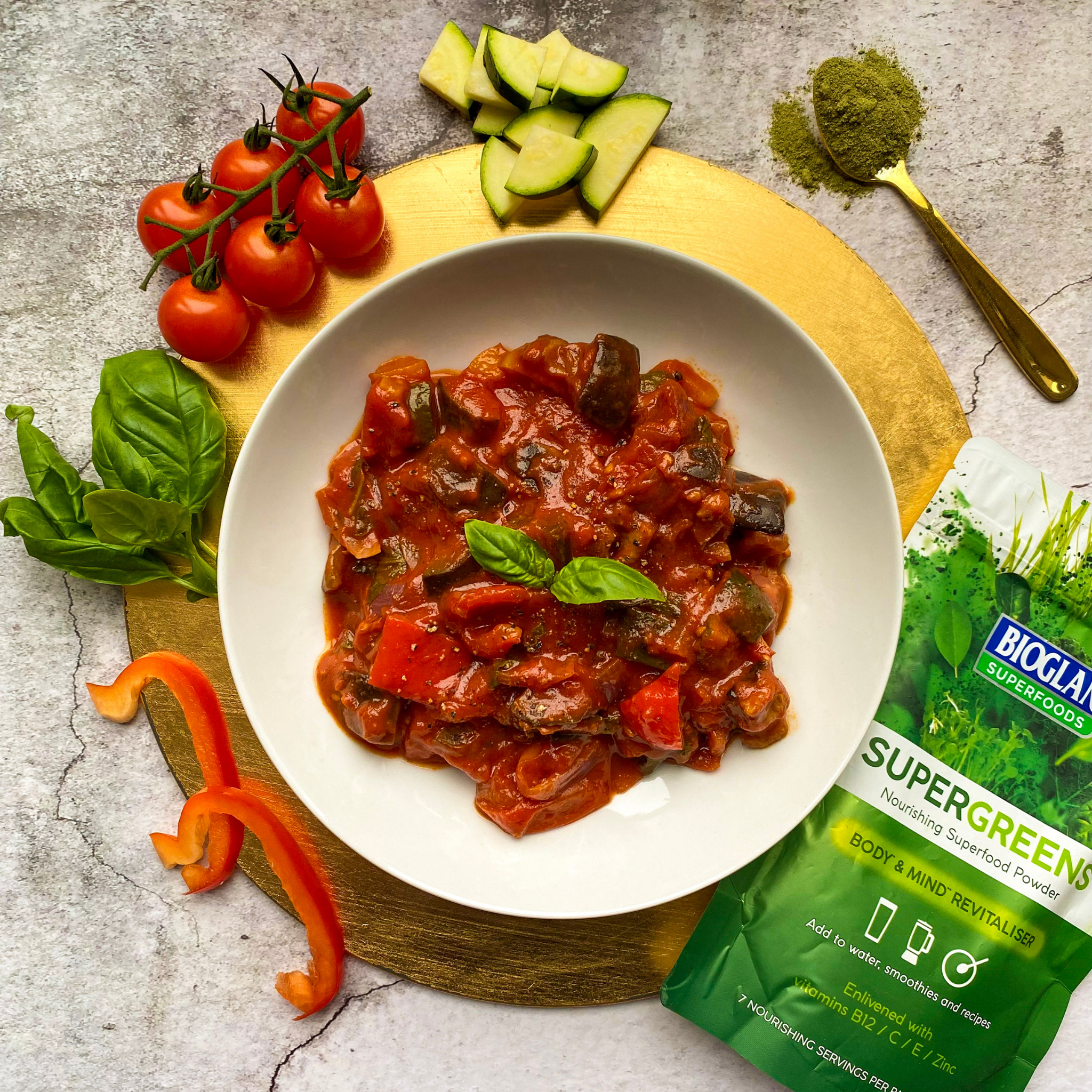 Ratatouille with Supergreens

4

One hour
Enjoy this super-healthy Ratatouille with Supergreens. It's packed full of veggies and works as a fantastic main or veggie side dish.
Ingredients
Buy ingredients online at your selected retailer
1 large aubergine, chopped
2 courgettes, chopped
3 peppers (orange, red or yellow) chopped
6 large tomatoes, chopped
2 red onions, chopped
5 tbsp olive oil
2 tbsp balsamic vinegar
Salt & pepper for seasoning
700g passata
6 leaves of fresh basil, chopped
1 tsp Bioglan Superfoods Supergreens
Fresh basil to garnish
Method
1. Heat the oven to 160°C Fan.
2. Chop the aubergine, courgettes, peppers, tomatoes and red onions so they are all roughly the same size (about 2cm cubes).
3. Add all the chopped veg in a large, deep oven-proof pan. Drizzle over the olive oil and balsamic vinegar and season well with salt & pepper. Shake to cover all the veg in the seasoning.
4. Put in the oven for 45 mins and move the veg around half-way through.
5. On a hob heat a wide based pan and add the passata, Supergreens and chopped basil. Add the roasted veg once the 45mins is up and stir well to mix it all together.
6. Allow to simmer for 10-15 minutes (make sure all the veg is cooked through and soft).
7. Serve with your choice of side or on its own and enjoy!