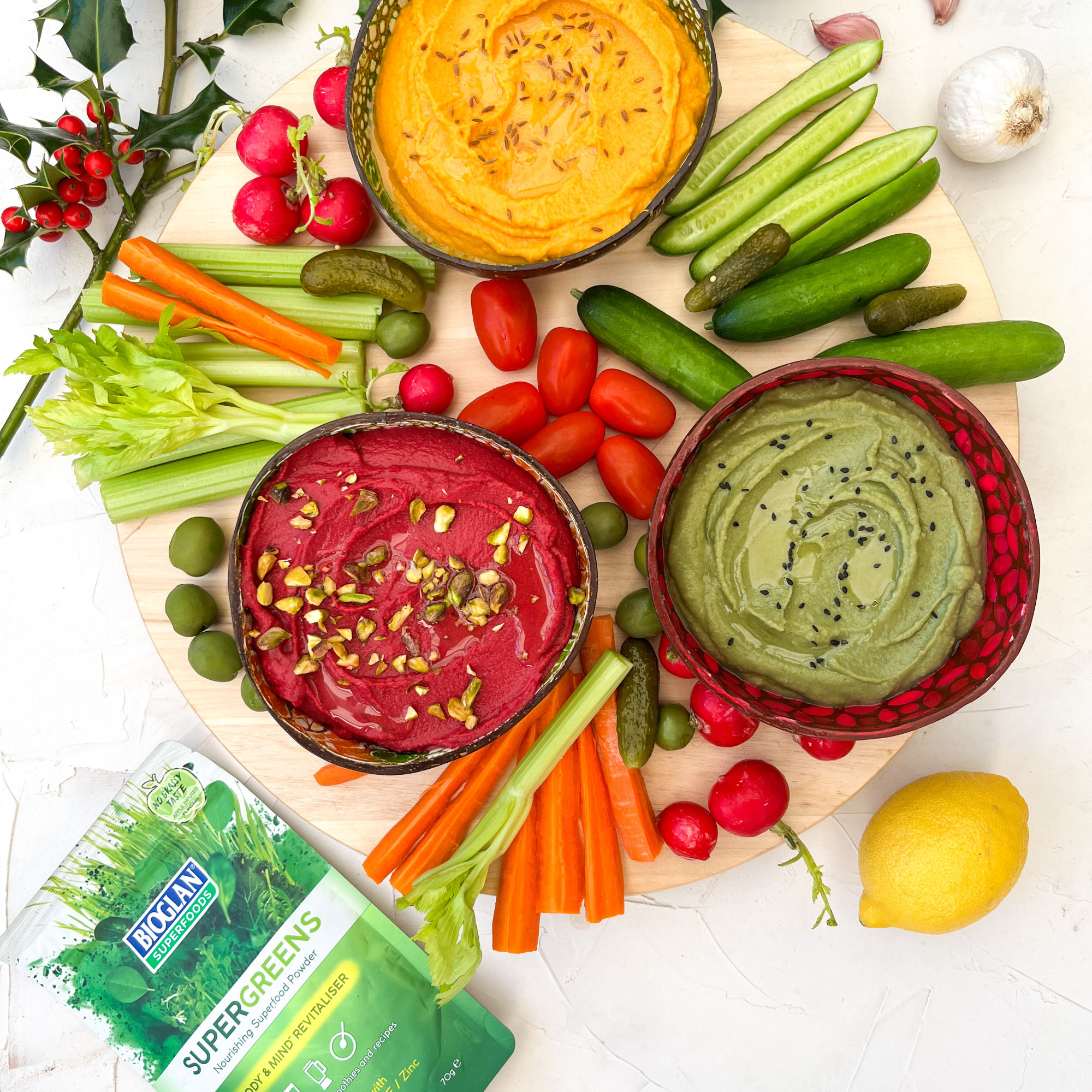 Rainbow Hummus and Veggie Sticks
with Supergreens

10

Forty-five Minutes
Look at this stunning rainbow hummus platter. Packed full of healthy nutrients and our Supergreens blend, it's the perfect accompaniment for finger foods before your main meal.
Ingredients
Buy ingredients online at your selected retailer
Beetroot Hummus:
200g beetroot (we used ready cooked)
400g tin chickpeas, drained
1 garlic clove
1 tbsp tahini
Juice ½ a lemon
Carrot Hummus:
200g carrots, chopped into chunks
400g tin chickpeas, drained
1 tsp cumin seeds
1 garlic clove
1 tbsp tahini
Sage and Caramelised Onion Hummus:
400g tin of chickpeas, drained
Handful of sage leaves
2 tbsp caramelised onions (we used jarred)
1 tsp Bioglan Superfoods Supergreens
To Serve:
Carrot sticks
Celery sticks
Radishes
Cherry tomatoes
Cornichons
Olives
Method
1. For the carrot hummus, preheat the oven to 200°C/180°C fan/gas 6. Add the carrots to a baking tray and drizzle with olive oil and season with salt and pepper. Roast for around 30 minutes until the carrots are cooked.
2. Combine the rest of the ingredients for the carrot hummus, adding 100ml water, and blend until smooth.
3. Next, add the ingredients for the beetroot hummus to a blender, along with 100ml water, and blend until smooth.
4. Finally, for the sage and onion hummus, combine all the ingredients in a blender with 100ml of water and blend until smooth.
5. Assemble the colourful hummus into bowls and arrange all the veg and accompaniments around them ready for dipping. Enjoy!