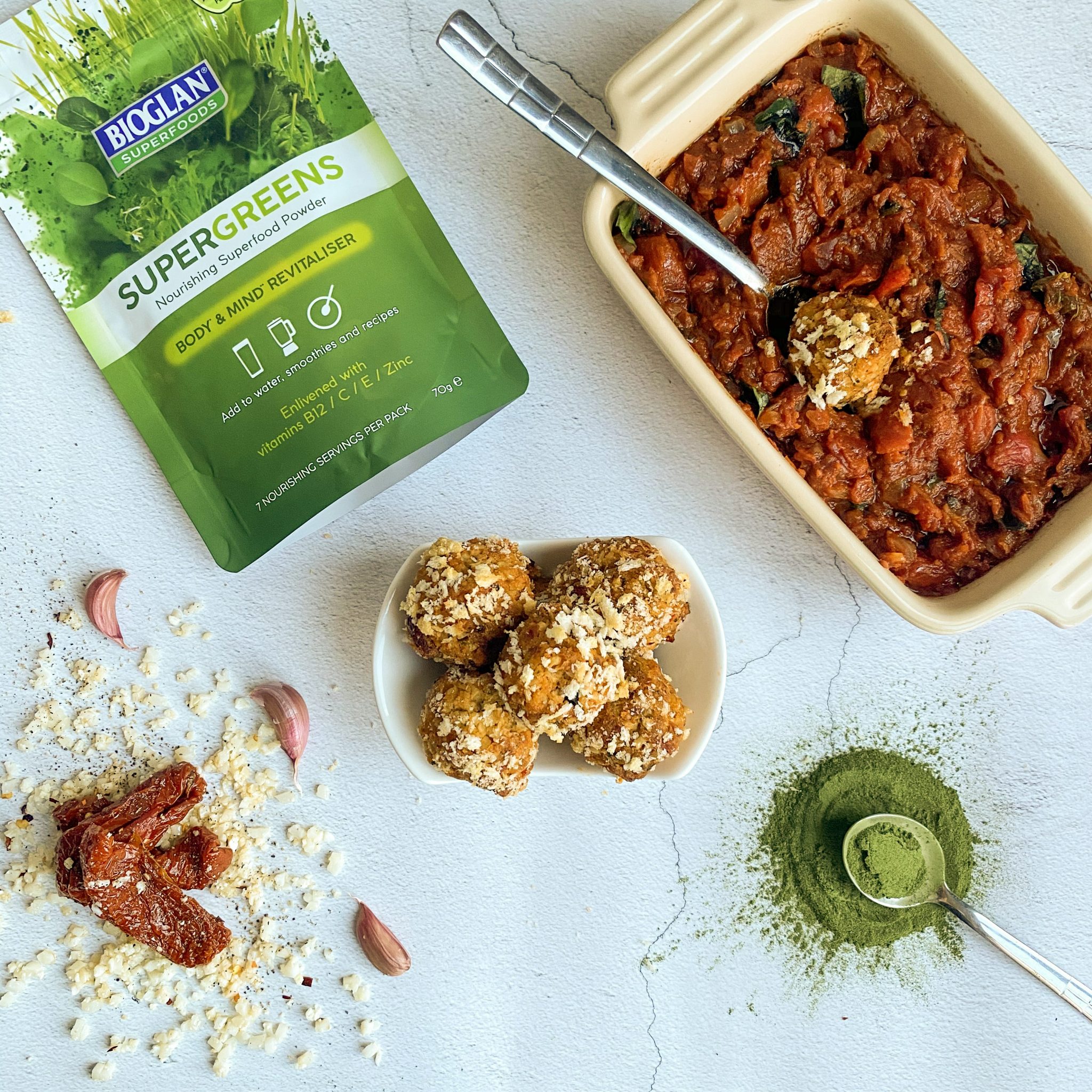 Vegan Arancini
with Supergreens

14 arancini balls

Two Hours
This recipe for Vegan Arancini with a Supergreens Marina sauce may take some time to make but we can assure you, it's worth it! They're baked rather than fried so they're a healthier alternative, especially with the added greens.
Ingredients
Buy ingredients online at your selected retailer
For the arancini:
3 cups of cauliflower rice
4 cloves of garlic (crushed)
2 tbsp olive oil
½ cup sun dried tomatoes (chopped)
3 tbsp fresh basil (chopped)
2 tsp dried oregano
½ cup vegan parmesan
½ cup panko style bread crumbs
For the sauce:
3 tbsp olive oil
1 small onion (finely diced)
1 large carrot (shredded)
2 garlic cloves (crushed)
¼ cup fresh basil (chopped)
½ tsp dried oregano
28 oz whole canned tomatoes
2 tbsp tomato paste
1 tsp Bioglan Supergreens
½ cup water
Method
1. Preheat oven to 190°C.
2. In a large pan sauté the cauliflower rice and garlic in 1 tbsp of olive oil for 5 minutes with a lid on a stirring regularly. Then set aside.
3. Blend the sun dried tomatoes, basil, oregano, vegan parmesan, Supergreens and panko breadcrumbs in a food processor. Add the cauliflower rice mixture and 1 tbsp of olive oil plus salt and pepper to the blender and pulse the mixture a few more times.
4. Transfer the mixture to a mixing bowl (if too wet add more breadcrumbs) and then refrigerate for half an hour.
5. Mix together breadcrumbs and vegan parmesan in a shallow bowl and set aside.
6. Take the chilled mixture from the fridge and form into balls with your hands.
7. Gently coat the balls in the breadcrumb and vegan parmesan mixture and put on a baking tray.
8. Bake in the oven for 15-20 minutes.
9. While they are baking, make the marina sauce. Heat olive oil in a large pan over medium heat. Add the onion, carrot and garlic and cook until soft (for about 5 minutes).
10. Add the tinned and whole tomatoes, stir, and then add the basil, oregano, tomato paste, Bioglan Supergreens and water. Simmer on a low heat uncovered for 20 minutes and serve with the arancini balls. Enjoy!