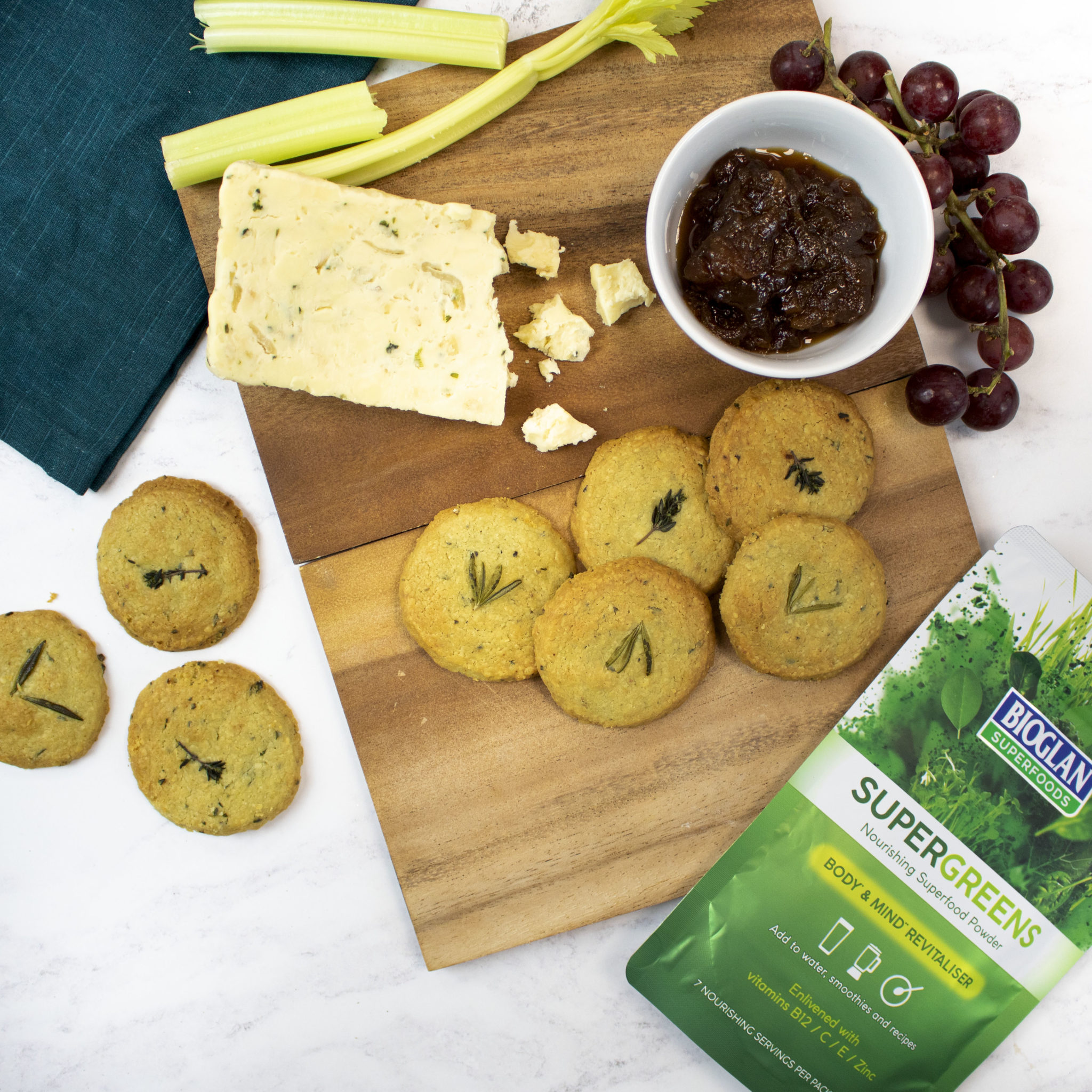 Savoury Cheese & Herb Biscuits
with Supergreens

12-20 depending on size of your cookie cutter

Forty Minutes
These melt in your mouth Savoury Cheese & Herb Biscuits with our Supergreens powder are super cheesy and tasty. Great for an afternoon snack or served on a cheese board with chutney, grapes and crumbly cheese.
Ingredients
Buy ingredients online at your selected retailer
100g cold unsalted butter, cut into small chunks
100g organic all-purpose flour, plus extra for flouring
100g Parmesan cheese (Parmigiano Reggiano), grated
2 sprigs fresh rosemary & thyme leaves, finely minced
¼ tsp black pepper (or to taste)
1 tsp Bioglan Superfoods Supergreens powder
Method
1. In a blender, mix together the butter, flour and Parmesan, until fine crumbs.
2. Add fresh chopped herbs, Bioglan Superfoods Supergreens powder and black pepper to taste, and knead until you form a dough.
3. Divide the dough in two, and roll each part into uniform log shapes.
4. Wrap the 2 cylinders with cling film, and refrigerate for 10 minutes.
5. Preheat the oven to 180°C ( 350°F).
6. Roll out the dough. Places pieces of rosemary and thyme onto the dough, cover with a baking sheet and roll over again to press the leaves into the dough. Cut out round biscuit shapes (roughly 1cm thick).
7. Arrange the biscuits on a baking tray lined with baking parchment.
8. Bake for 10 minutes, or until the biscuits are golden on top.
9. Remove the biscuits from the oven, they will still be quite soft. Allow to cool completely on a baking rack, and once dry they will have a crunchy texture.
10. Serve as desired, we placed ours on a cheese board with chutney, grapes and onion and chive cheese – delicious!