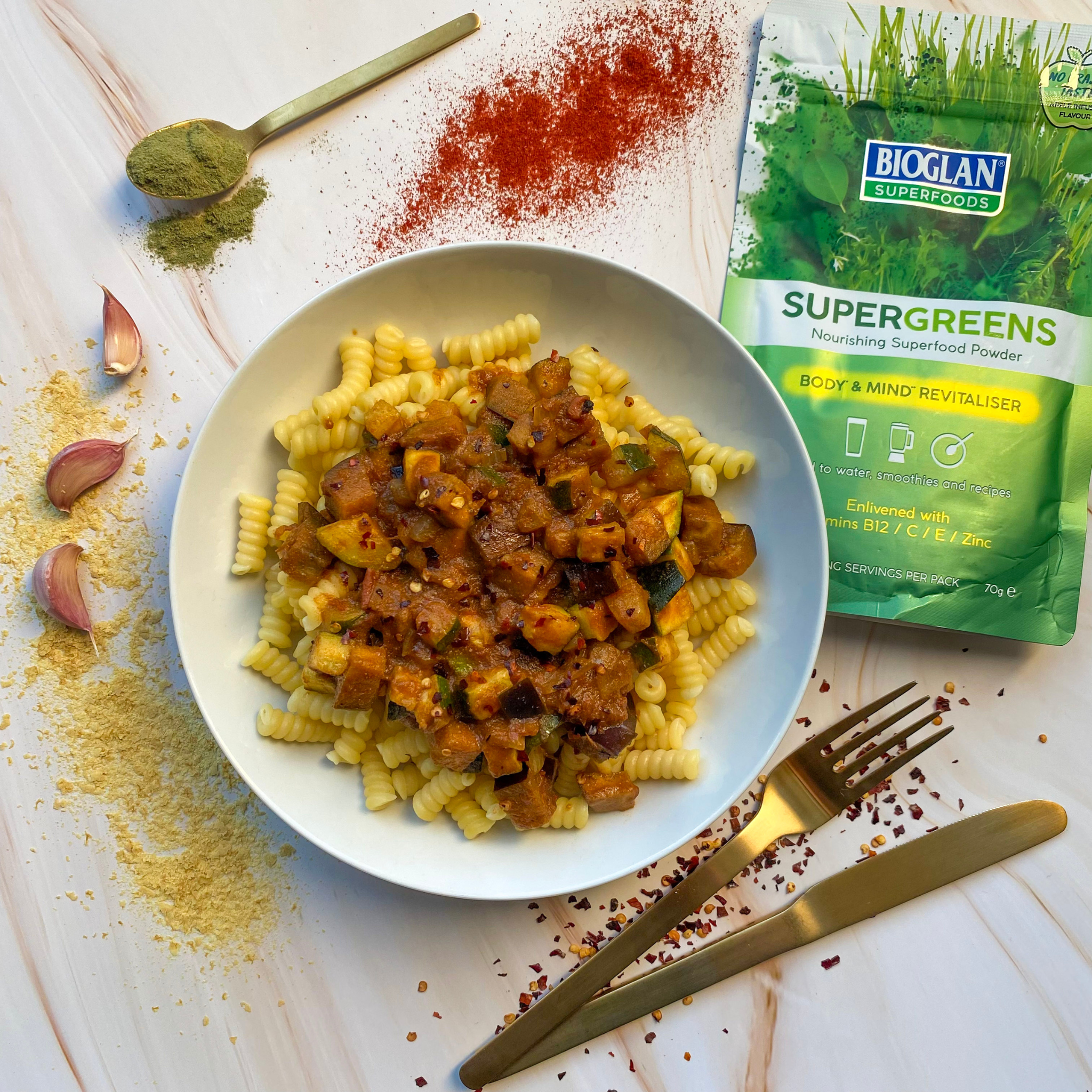 Aubergine & Courgette Ragu with Supergreens

4

Forty minutes
We're always on the hunt for a comforting pasta dish. Our Aubergine and Courgette Ragu with Supergreens doesn't disappoint. Packed with veggies, it's a quick midweek dinner.
Ingredients
Buy ingredients online at your selected retailer
300g pasta
3 cloves of garlic
1 large onion
3 tbsp olive oil
2 courgettes, diced
1 aubergine, diced
1 tsp crushed chilli
For the sauce:
9 sun dried tomatoes
2 tbsp tomato paste
2 tsp balsamic vinegar
2 tsp sugar
1 tbsp paprika
500ml vegetable stock
2 tbsp nutritional yeast
1 tsp Bioglan Superfoods Supergreens
Method
1. Place all the ingredients for the sauce in a blender and blend until smooth.
2. Chop the courgette and aubergine into 2cm cubes and then peel and dice the onion and garlic.
3. In a large saucepan add the olive oil and warm to a medium heat. Add the garlic, onion and chilli flakes and stir constantly to prevent burning. Fry for roughly 5 minutes until onions begin to go translucent.
4. Add the aubergine and courgette cubes to the pan and cover, allowing the mixture to sweat for 5 minutes.
5. Pour in the blended tomato sauce and stir well to combine all ingredients. Bring the mixture to the boil and then turn down the heat to allow to simmer. Cover the pan and cook for 15-20 minutes, stirring halfway through to make sure the mixture is cooking evenly.
6. Whilst the mixture is cooking bring a pan of salted water to the boil and add your chosen pasta.
7. Once both the mixture has thickened and the veggies are soft, and the pasta is fully cooked, serve and add a garnish/seasoning of your choice.