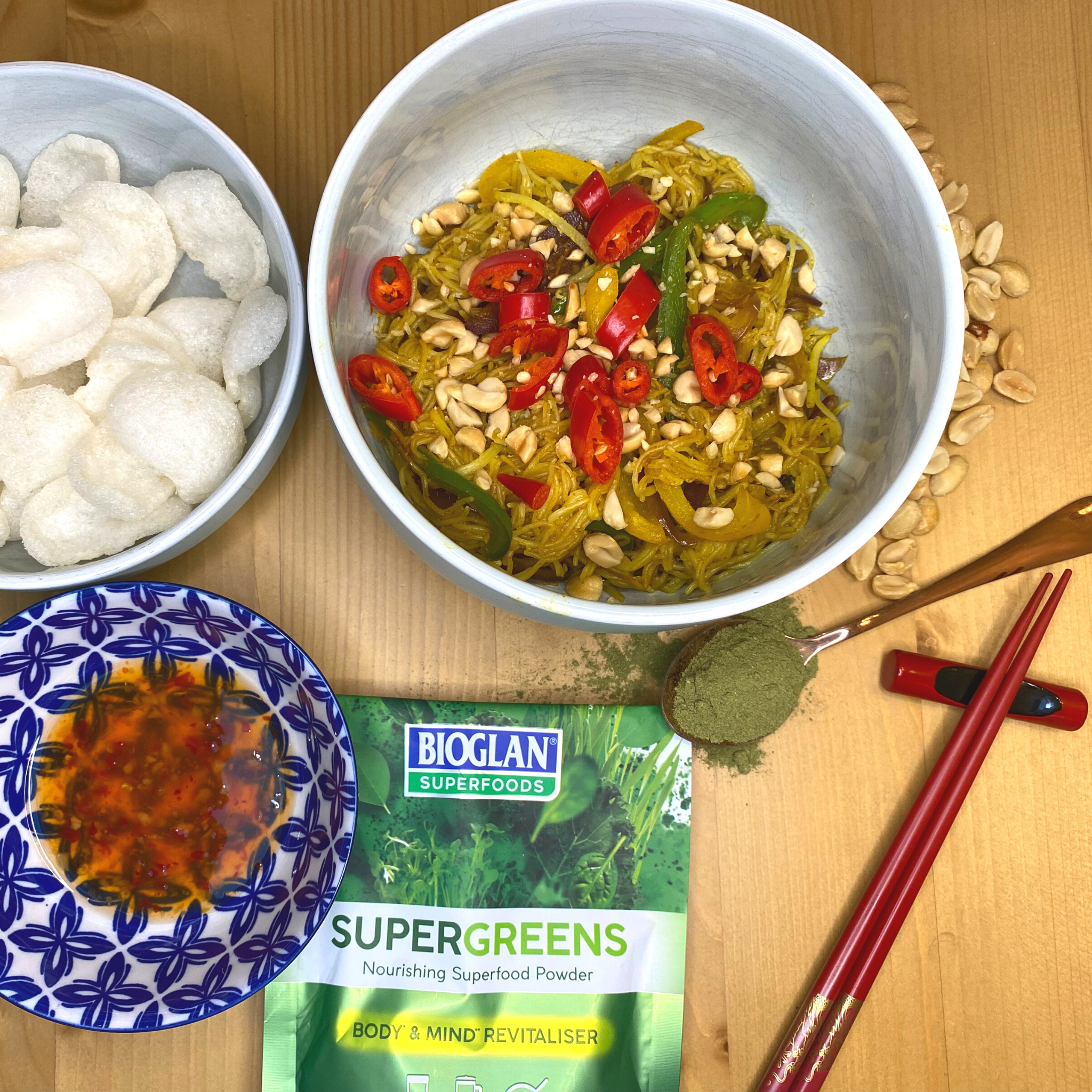 Vegan Singapore Noodles with Supergreens

4

Fifteen minutes
If you love a weekend takeaway but you're looking for a healthier swap, try our Vegan Singapore Noodles with Supergreens, Ready in under 15 minutes.
Ingredients
Buy ingredients online at your selected retailer
200g vermicelli rice noodles
1 tsp Bioglan Superfoods Supergreens
1 tbsp mild curry powder
¼ tsp turmeric
1 tsp caster sugar
1 tbsp sesame oil
3 tbsp low-salt soy sauce
1 tbsp sunflower or vegetable oil
1 onion, sliced
½ green pepper, sliced
½ yellow pepper, sliced
200g beansprouts
1 red chilli, sliced (optional)
Handful roasted peanuts, roughly sliced (optional)
Method
1. Put the noodles in a large pan or bowl and pour over boiled water, enough to cover the noodles. Set aside for 10 minutes, until the noodles are completely soft.
2. Mix the Bioglan Superfoods Supergreens, curry powder, turmeric, sugar, sesame oil, soy sauce and 1 tbsp water in a bowl.
3. Heat a wok on a medium/high heat. Add the oil, onion and peppers and stir-fry for 5 minutes until softened and starting to brown.
4. Drain the noodles and add to the pan, along with the sauce mixture and beansprouts. Stir-fry for a further 5 minutes, until everything is combined.
5. To serve, divide between bowls and top with a drizzle of sesame oil, roasted peanuts and fresh chilli. Enjoy!