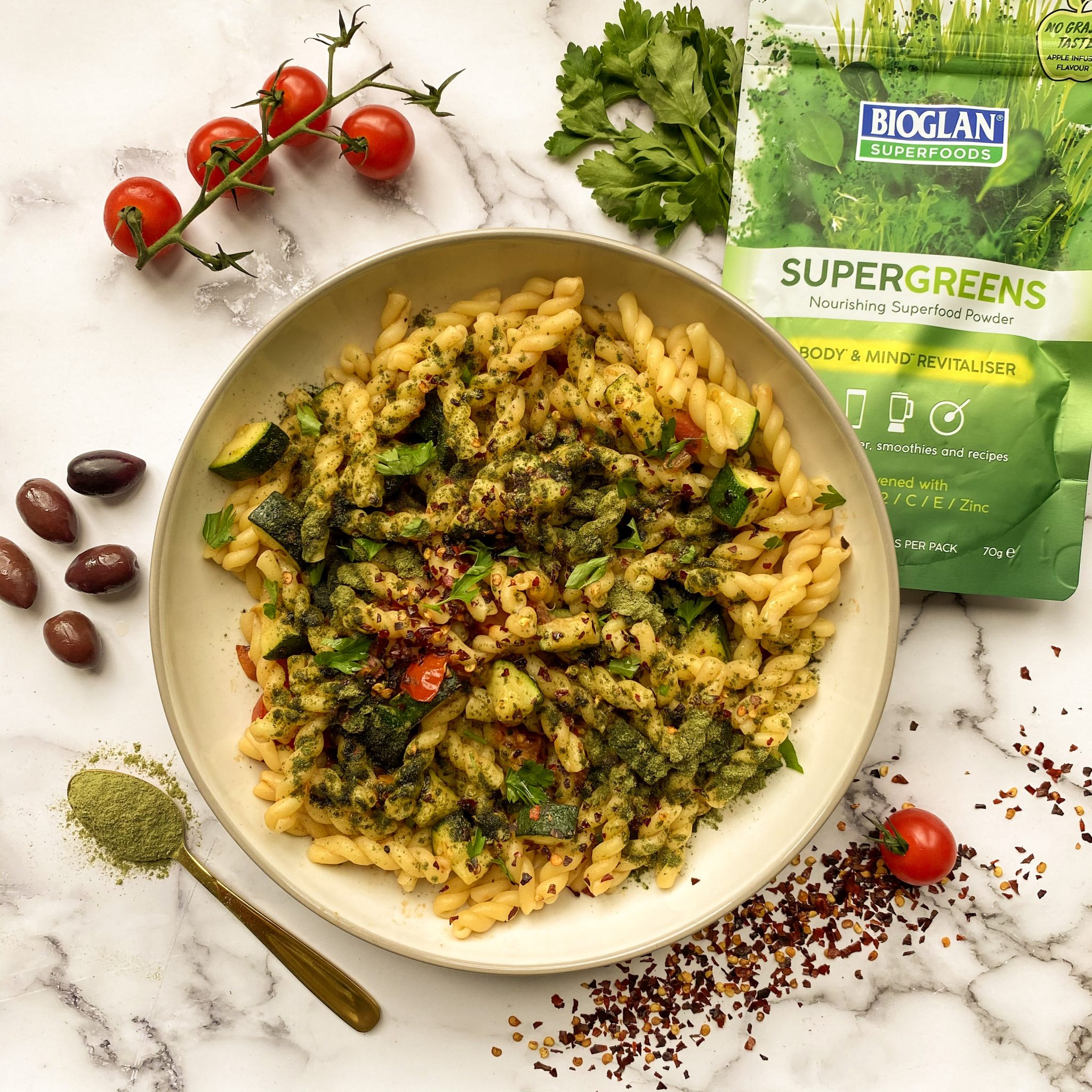 Vegan Summer Pasta
with Supergreens

2

Twenty Minutes
The perfect vegan pasta for those Summer evenings. Containing our Supergreens blend, bursting with powerful Superfoods.
Ingredients
Buy ingredients online at your selected retailer
200g pasta of your choice
4 tsp extra virgin olive oil
1 medium courgette (cut into chunks)
2 garlic cloves (roughly chopped)
2 large ripe tomatoes (chopped)
8 cherry tomatoes (halved)
2 tsp balsamic vinegar
8 Kalamata olives (de-stoned and chopped)
A pinch of chilli flakes
Salt and black pepper for seasoning
1 tsp Bioglan Superfoods Supergreens
Fresh parsley to garnish (optional)
Method
1. Start cooking your pasta of choice following the instructions on the packet.
2. Meanwhile, heat 2 tsp of oil in a pan and once hot add the courgette. Fry gently until caramelised.
3. Once the courgette is caramelised add the chopped garlic and stir constantly to make sure the garlic doesn't brown. Season the mixture and fry for about 2-3 minutes and then transfer out of the pan and set aside.
4. Add a dash of water to the pan you used for the courgette and then add the chopped tomatoes. Allow time for the tomatoes to break down and the sauce to thicken. Then add the cherry tomatoes and wait for them to soften in the sauce.
5. Season the sauce and add the balsamic vinegar as well as some chilli flakes.
6. Once the pasta is cooked drain and add to the tomato sauce, mixing well.
7. Return the courgette and garlic back to the pan and mix with the pasta and sauce, adding the olives too.
8. Serve in bowls, sprinkle the Supergreens over the top and add fresh parsley to garnish. Enjoy!