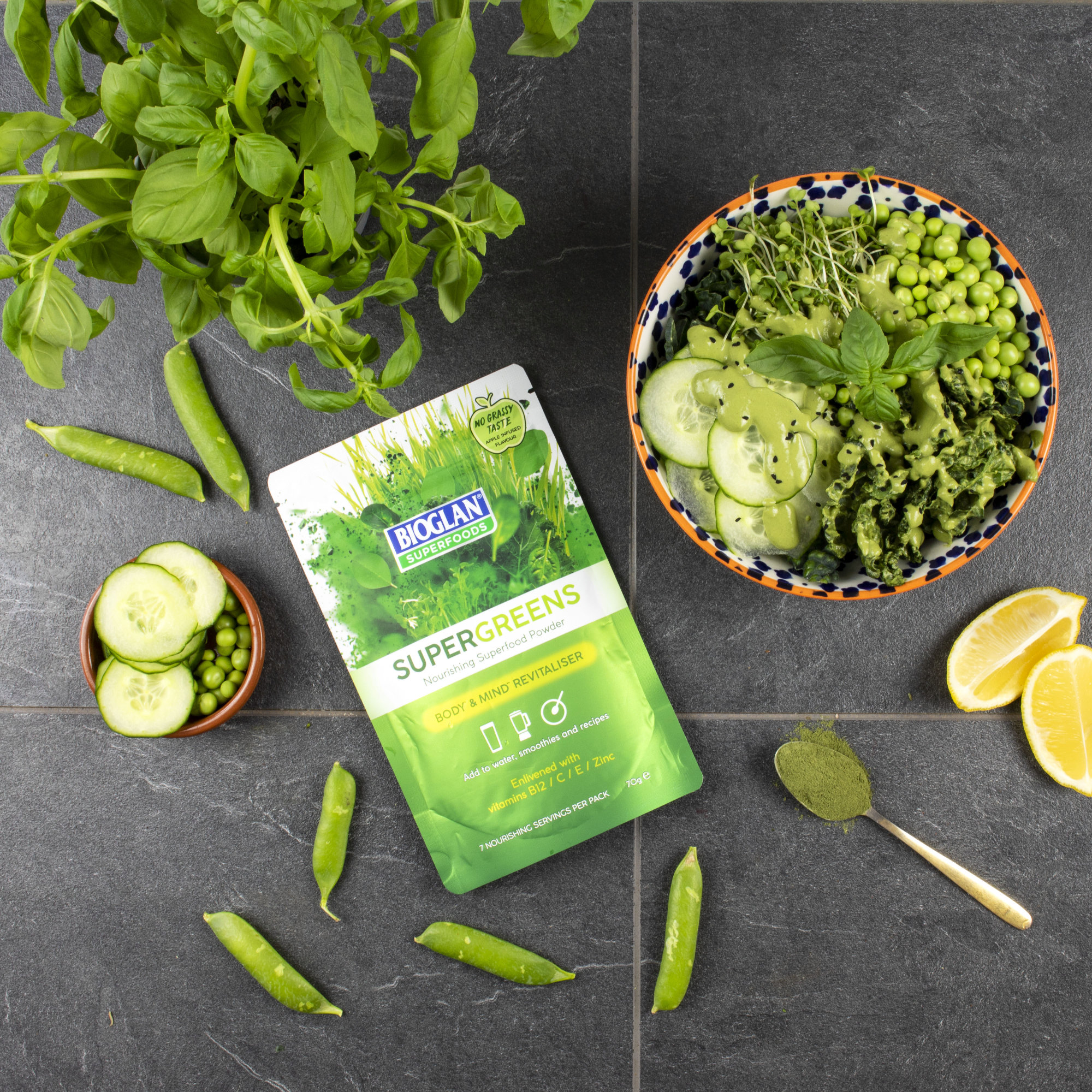 Green Goddess Salad
with Supergreens

2

Thirty Minutes
Super healthy salad alert! This salad is made with lots of green veg, Supergreens and a delicious homemade dressing – ha-pea days!
Ingredients
Buy ingredients online at your selected retailer
Green Goddess Dressing:
75g raw cashews
1 bunch of fresh basil
60ml + 2 tbsp water
1 garlic clove, peeled
1 tbsp Supergreens
1 tbsp lemon juice
1 tsp light miso
¼ tsp salt, plus more to taste
For the salad:
150g frozen peas
5 kale leaves, stems removed and roughly chopped
1 cucumber, sliced thinly
2 spring onions onions, sliced
1 bunch cress
Black sesame seeds (optional)
Method
1. Add cashews to a bowl and cover with boiling water. Let sit for 20 minutes.
2. Add water and peas to a small saucepan. Turn heat to high and cook until the peas are bright green and tender.
3. Drain and transfer the peas to a bowl of cold water to stop the cooking process.
4. Prepare dressing by draining and rinsing the cashews.
5. Add cashews to a high speed blender along with basil, water, garlic, Supergreens, lemon juice, miso and salt.
6. Blend until smooth. If you are having a hard time blending all the ingredients together, add 1 or 2 tablespoons of water and blend again.
7. Taste and adjust seasonings to your liking.
8. Transfer kale to a large bowl. Add dressing and massage using your hands for 5 minutes.
9. Assemble the salad.
10. Divide the kale and peas between two bowls. Add cucumbers, green onions add microgreens.
11. Top with black sesame seeds (if using).
12. Enjoy immediately.