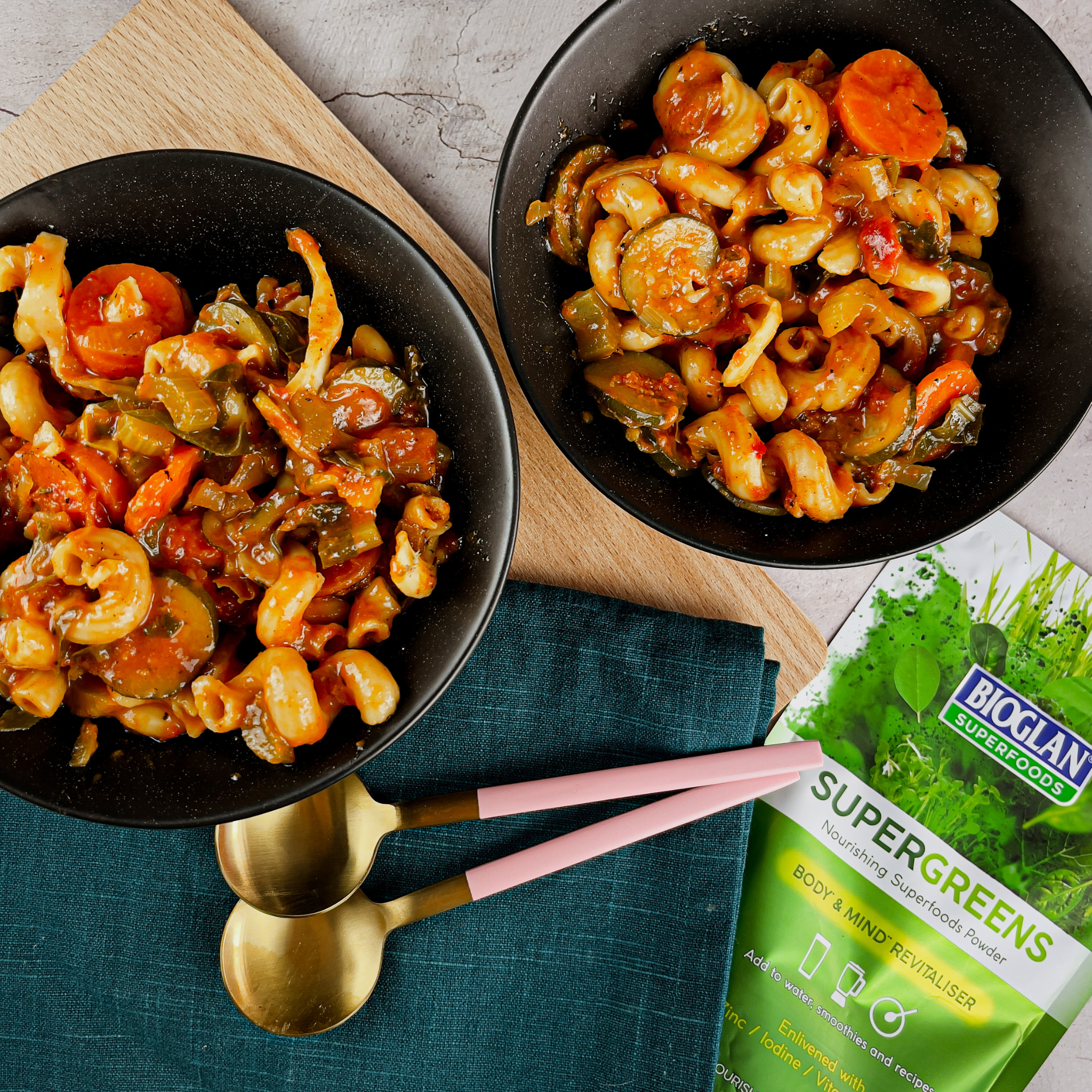 Vegan Minestrone with Supergreens

4

Twenty Five Minutes
We're kicking off Veganuary with our Vegan Minestrone with Supergreens. Packed full of veg, this is an easy weekday meal.
Ingredients
Buy ingredients online at your selected retailer
2 tbsp oil
½ medium onion, diced
2 large carrots, peeled and sliced into thin rounds
1 stick of celery, thinly sliced
3 cloves garlic, minced
1 tbsp tomato purée
2 fresh rosemary twigs, leaves chopped finely or ½ tsp dried
2 tsp dried basil
1 pinch red chilli pepper flakes
1 tsp sweet smoked paprika
400g tin chopped tomatoes
1 ltr vegetable stock
1 tsp Bioglan Superfoods Supergreens
100g dried pasta
1 small courgette, sliced into rounds
200g kale
salt & pepper to taste
fresh herbs to garnish, optional
Method
1. Heat the oil in a deep saucepan over a medium heat, then fry the onion, carrots and celery for 10 minutes until softened.
2. Add the garlic, tomato purée, herbs and spices and then cook for 1 minute more.
3. Pour the tomatoes and stock into the pan, add the pasta and the Supergreens powder, then bring to the boil.
4. Reduce the heat to a simmer, season well, then cook for 8-10 minutes until the pasta is nearly cooked.
5. Add the courgette and kale and simmer for 2-3 minutes more until wilted and heated through.
6. Ladle into warm bowls, then scatter over fresh herbs - enjoy!