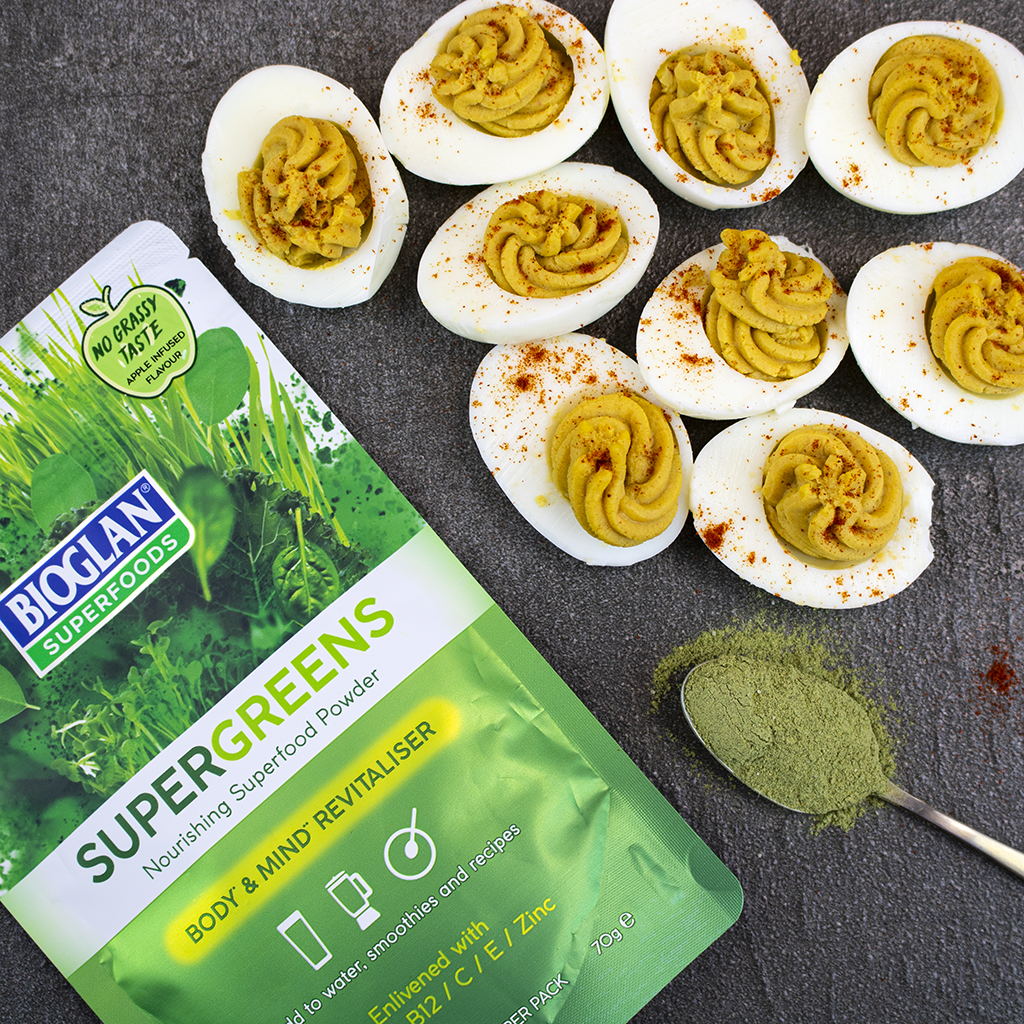 Deviled Eggs
with Supergreens

6

Forty-five Minutes
Spice up your life with these fiery deviled eggs. Out with the boring boiled eggs, these deviled eggs with
Supergreens
are a simple and healthy snack with an added pop of flavour. Perfect for grazing, or party platter!
Ingredients
Buy ingredients online at your selected retailer
3 large free-range eggs
1 tbsp mayonnaise
1 tsp English mustard
¼ tsp salt
¼ tsp paprika, plus extra for garnishing
2 drops Tabasco
1 tbsp extra virgin olive oil
1 tbsp water from a freshly boiled kettle
1 tsp Bioglan Superfoods Supergreens
2 tsp Bicarbonate soda
Method
1. In a large saucepan, boil some water with bicarbonate soda. Once bubbling, lower the eggs into the pan.
2. Boil the eggs for 1 minute and then turn off the heat leaving the eggs in the water for 12 minutes.
3. Whilst the eggs are cooking, prepare a bowl of cold water. Once the 12 minutes is up transfer them to the cold water leaving them for 15 minutes.
4. Once cool, peel the eggs carefully. The bicarbonate soda should have helped make this process a little easier!
5. Cut the eggs in half length ways and spoon out the yolk adding them to a mixing bowl.
6. Add mayonnaise, English mustard, salt, paprika, tabasco and Bioglan Superfoods Supergreens to the bowl and mash with a fork until smooth. Add a little oil to help with the smoothness and the hot water to make it a good consistency for piping.
7. Spoon the mixture into a piping bag and pipe into the yolk holes.
8. Garnish with paprika and enjoy!