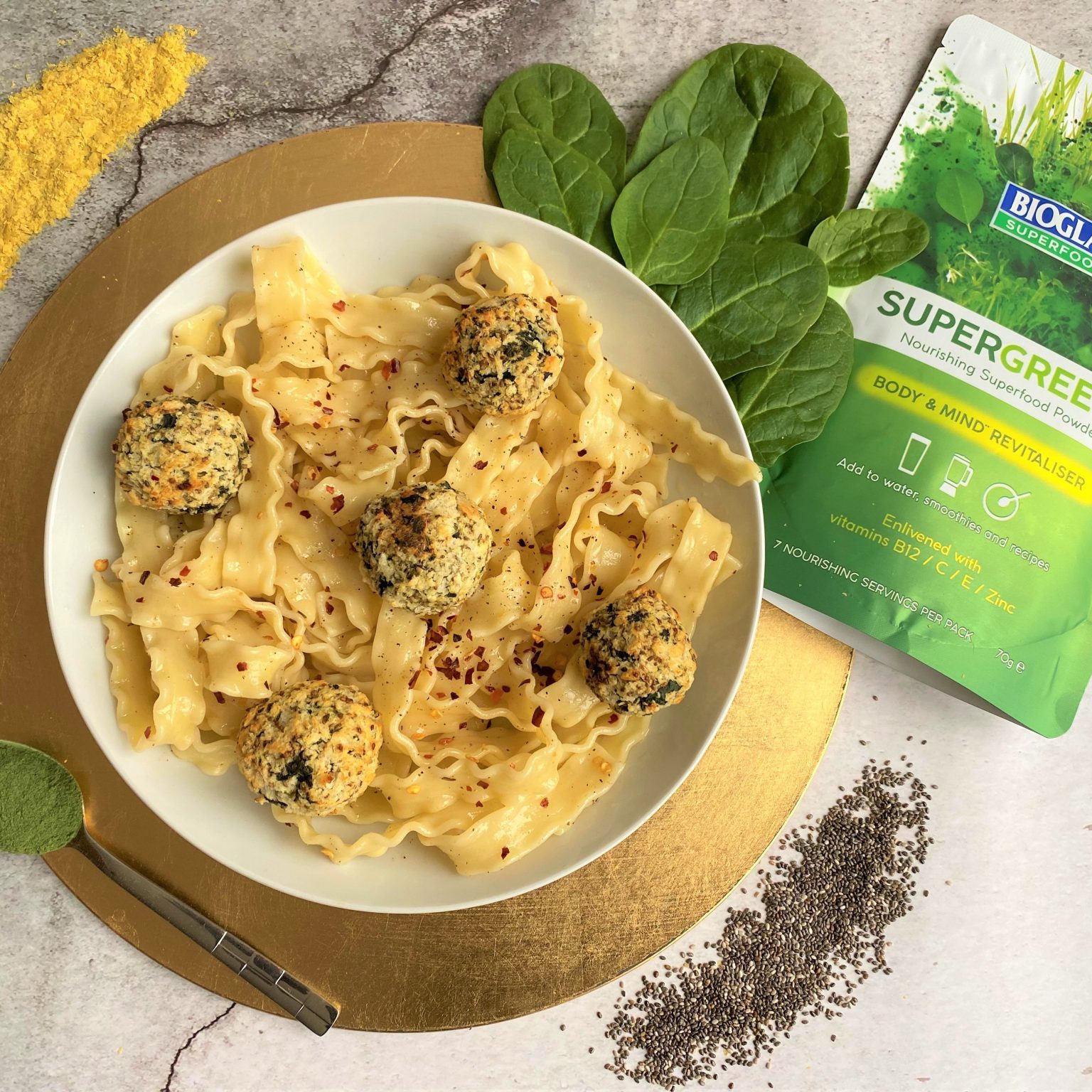 Vegan Spinach Balls
with Supergreens

Makes 15-20

Forty Minutes
A delicious way to get your greens! These Vegan Spinach Balls with Supergreens are super tasty and healthy and the best part, you can serve them with different foods such as pasta, wraps, pittas or any other way you like!
Ingredients
Buy ingredients online at your selected retailer
2 tbsp chia seeds
2 tbsp lemon juice
60ml tap water
450g fresh spinach
3 tbsp nutritional yeast
2 garlic cloves (finely grated)
½ tsp salt
½ tsp pepper
1 tbsp grated nutmeg (add more for extra flavour)
1 tsp Bioglan Superfoods Supergreens
100g coarse panko style breadcrumbs
Sunflower oil for baking
Method
1. Mix the chia seeds and lemon juice in a small bowl and put to one side
2. Put the spinach in boiling water for 1-2 minutes making sure it is fully submerged. Drain and immediately place into ice cold water (this preserves the colour).
3. Take the spinach out of the water by hand and squeeze as much water out as possible. Then finely chop the spinach.
4. Take the chia seed, lemon juice and water mixture and add to a larger bowl mixing in the chopped spinach, nutritional yeast, garlic, salt and pepper, nutmeg and Supergreens powder.
5. Gradually add breadcrumbs until you can form firm, walnut-sized balls with your hands. Leave to chill in the fridge for 2 hours.
6. Dip in a very small amount of sunflower oil and bake in the oven at 180°C for 20 minutes. Turn halfway to make sure all the breadcrumbs cook evenly.
7. Once golden on the outside remove from the oven and serve. Enjoy!