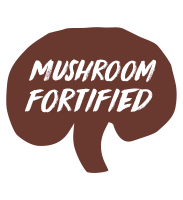 Bioglan Superfoods Brain Boost is a unique mix of botanical nootropics like Lion's Mane and Cordyceps, defined as substances that may have a positive impact on mental skills*. The blend is further enhanced with Ginseng, an adaptogen and L-Tyrosine, an amino acid.
Additionally, the mix is fortified with a complex of energy yielding B-Vitamins to support your mental activities like concentration, learning, memory, and reasoning. All these powerful ingredients, blended with a rich and versatile Cocoa powder, can be easily added to your favourite meals and drinks, for an added mental performance.

Get creative and add 5g to your favourite sweet and savoury recipes or a hot drink for a nutritious upgrade.

Give your morning smoothie an energising lift by adding 5g of Brain Boost into your blender before whizzing it up.
Sprinkle 5g into your porridge once cooked and stir through to dissolve for a healthy breakfast for your brain.