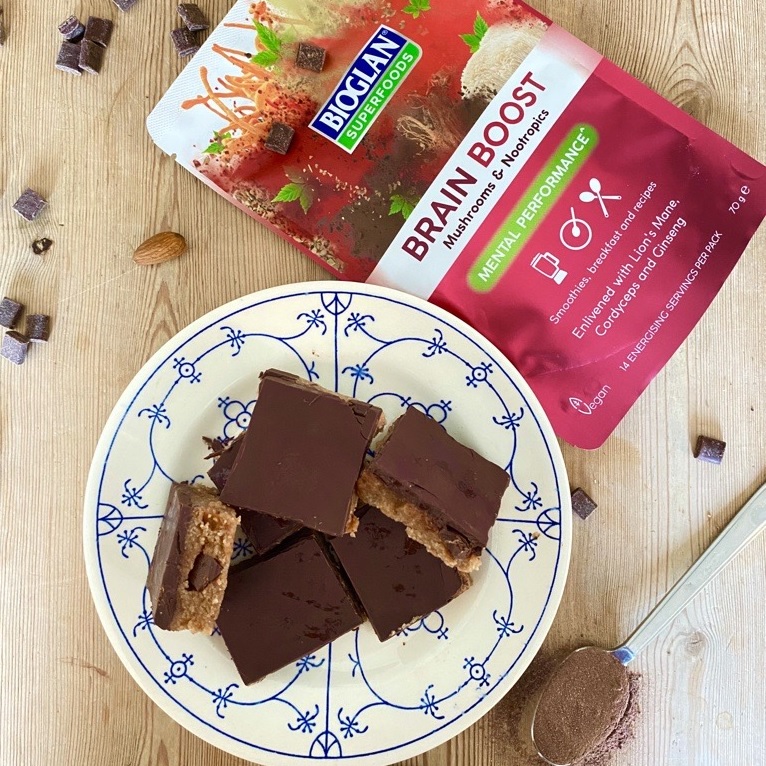 No-bake Cookie Dough Bars
with Brain Boost

16 Bars

Thirty Minutes
Our first ever recipe with the all-new mushroom fortified Bioglan Superfoods Brain Boost blend. These no-bake Cookie Dough bars make for a great snack.
Ingredients
Buy ingredients online at your selected retailer
Cookie dough layer:
2 ¼ cups almond flour
¼ tsp salt
½ cup cashew butter
¼ cup maple syrup
1 tsp vanilla extract
2 tsp almond milk
5g Bioglan Superfoods Brain Boost
½ cup mini chocolate chips
Method
1. Mix all the dry ingredients, almond flour, salt, and Bioglan Superfoods Brain Boost together in a large mixing bowl.
2. Take another mixing bowl and blend together the wet ingredients, cashew butter, maple syrup, vanilla extract, and almond milk.
3. Add the wet ingredients to the bowl of dry ingredients and mix until combined. (it's easiest to start mixing with a spatula, and then use your hands!)
4. Add in the chocolate chips and mix.
5. Line a pan with parchment/baking paper, then add the cookie dough batter to the pan, pressing down evenly.
6. Melt the dark chocolate and coconut oil together in a microwave-safe bowl and pour on top of the bars. (Make sure to move the pan around after adding the chocolate so that the chocolate spreads out evenly.)
7. Place in the fridge to set for 3 hours and then cut into bars.
8. Store in the fridge. Enjoy!