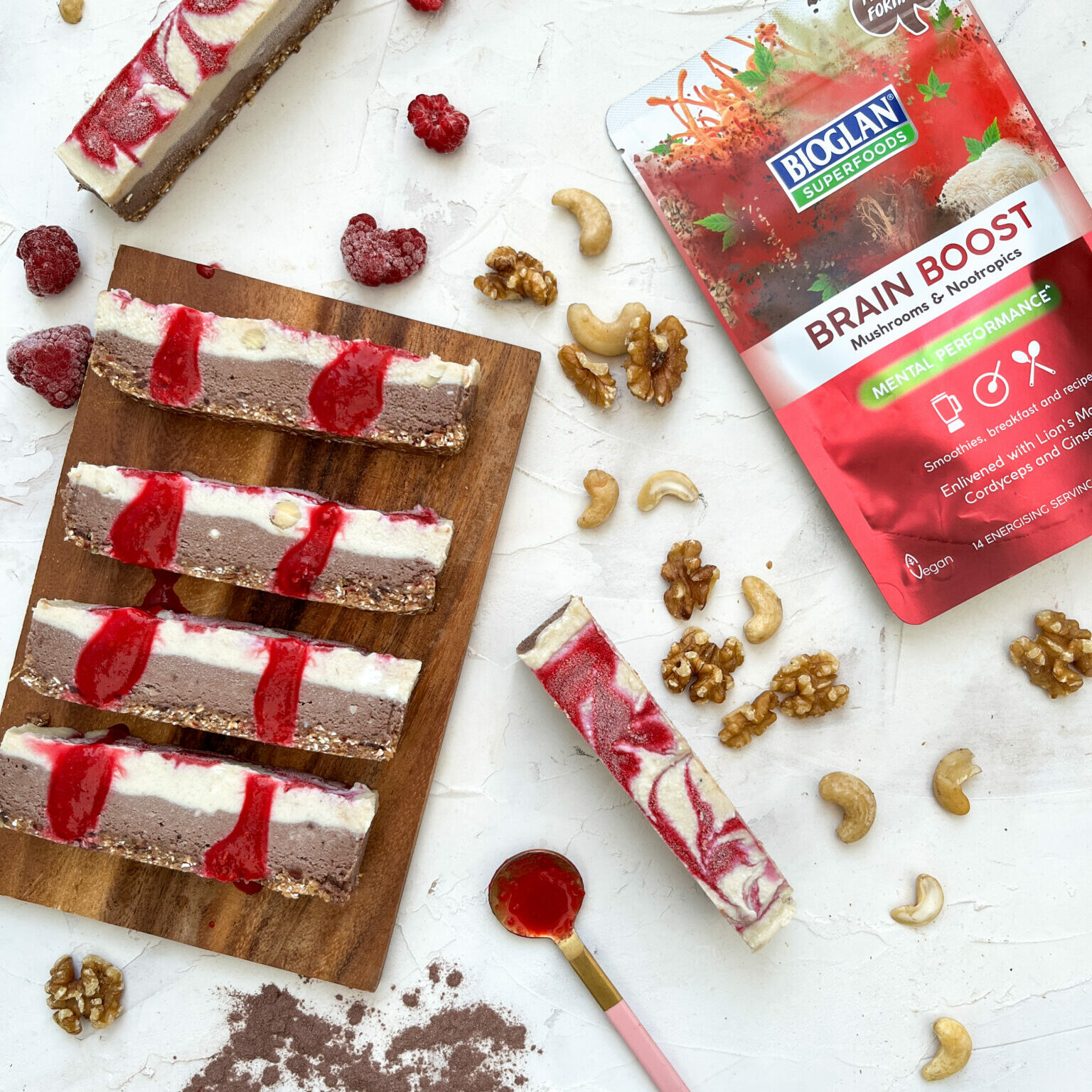 Vegan Cheesecake Bars
with Brain Boost

24

Five Hours
We loved creating these flavourful vegan cheesecake bars with Brain Boost! The perfect sweet bursting with a mix of botanical nootropics.
Ingredients
Buy ingredients online at your selected retailer
400g coconut milk
225g pitted dates
100g walnuts
85g oats
500g cashews, soaked for at least 4 hours
300ml agave syrup
2 tbsp Bioglan Superfoods Brain Boost
100g fresh or frozen raspberries
Method
1. Line a 30cm x 23cm x 4cm baking tin with baking paper. Blend the dates, walnuts and oats in a food processor until you get damp crumbs, then press into the bottom of the tin and spread evenly with your fingers. Transfer to the freezer for 20 minutes Drain the cashews and set aside.
2. Scoop out the set coconut milk from the top of the can and add to a food processor, discarding any water left over. Add the agave syrup and cashews and beat until smooth and creamy.
3. Transfer half the mixture to a large bowl and stir in the Brain Boost. Refrigerate the other half of the cashew mix. Remove the base from the freezer and pour on the Brain Boost filling. Spread until smooth and even and place back in the freezer for an hour.
4. While the first layer of the cheesecake sets, blitz the raspberries with 3 tbsp of water until smooth. Remove the tray from the freezer and pour on the plain layer. Smooth out until even, then add the raspberry purée. Swirl around creating a pattern and transfer to the freezer for 3-4 hours.
5. Cut the cheesecake into bars and serve. Store any leftovers in the freezer and eat within one month. Enjoy!