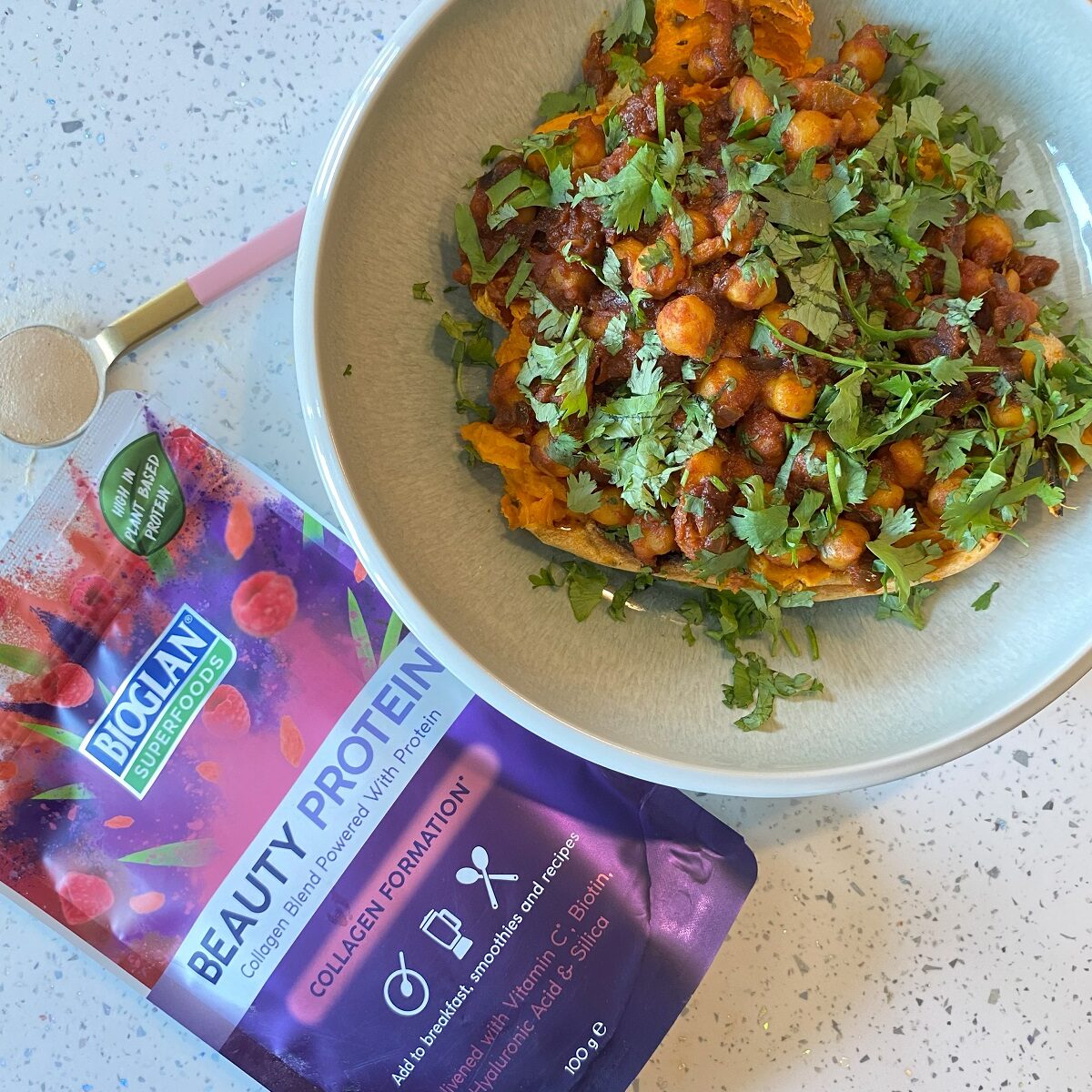 Chickpeas & Sweet Potato
with Beauty Protein

2

One Hour
Packed with protein, this Chickpea and Sweet Potato recipe makes the perfect nutritious and delicious meal.
Ingredients
Buy ingredients online at your selected retailer
2 sweet potatoes
1 tbsp coconut oil
1 tsp cumin seeds
1 large onion, diced
2 garlic cloves, chopped or crushed
1 thumb-sized piece ginger, chopped or crushed
1 green chilli, slit into halves
1 tsp turmeric
1 tsp paprika
1 tsp curry powder
2 tsps Bioglan Superfoods Beauty Protein
1 x 400g can chopped tomatoes
1 x 400g can boiled chickpeas, drained
Lemon wedges and coriander leaves, to serve
Salt to taste
Method
1. Pre-heat the oven at 200C/180C fan. Prick the sweet potato all over with a fork, place on a baking tray and roast for 45 mins or until tender when pierced with a knife.
2. Meanwhile, melt the coconut oil in a large saucepan over medium heat. Add cumin seeds and fry for 1 min until fragrant, then add the onion and fry for 7-10 mins until softened.
3. Add chopped/crushed garlic, ginger, and green chili into the pan, and cook for 2-3 mins. Add all the spices and Bioglan Superfoods Beauty Protein and cook for another 2 mins until fragrant, then tip in the tomatoes.
4. Bring to a simmer, then tip in the boiled chickpeas and cook for a further 20 mins until thickened. Season.
5. Place the roasted sweet potatoes on a plate and cut open lengthways. Spoon over the chickpea curry and squeeze over the lemon wedges. Season, then scatter with coriander before serving. Enjoy!