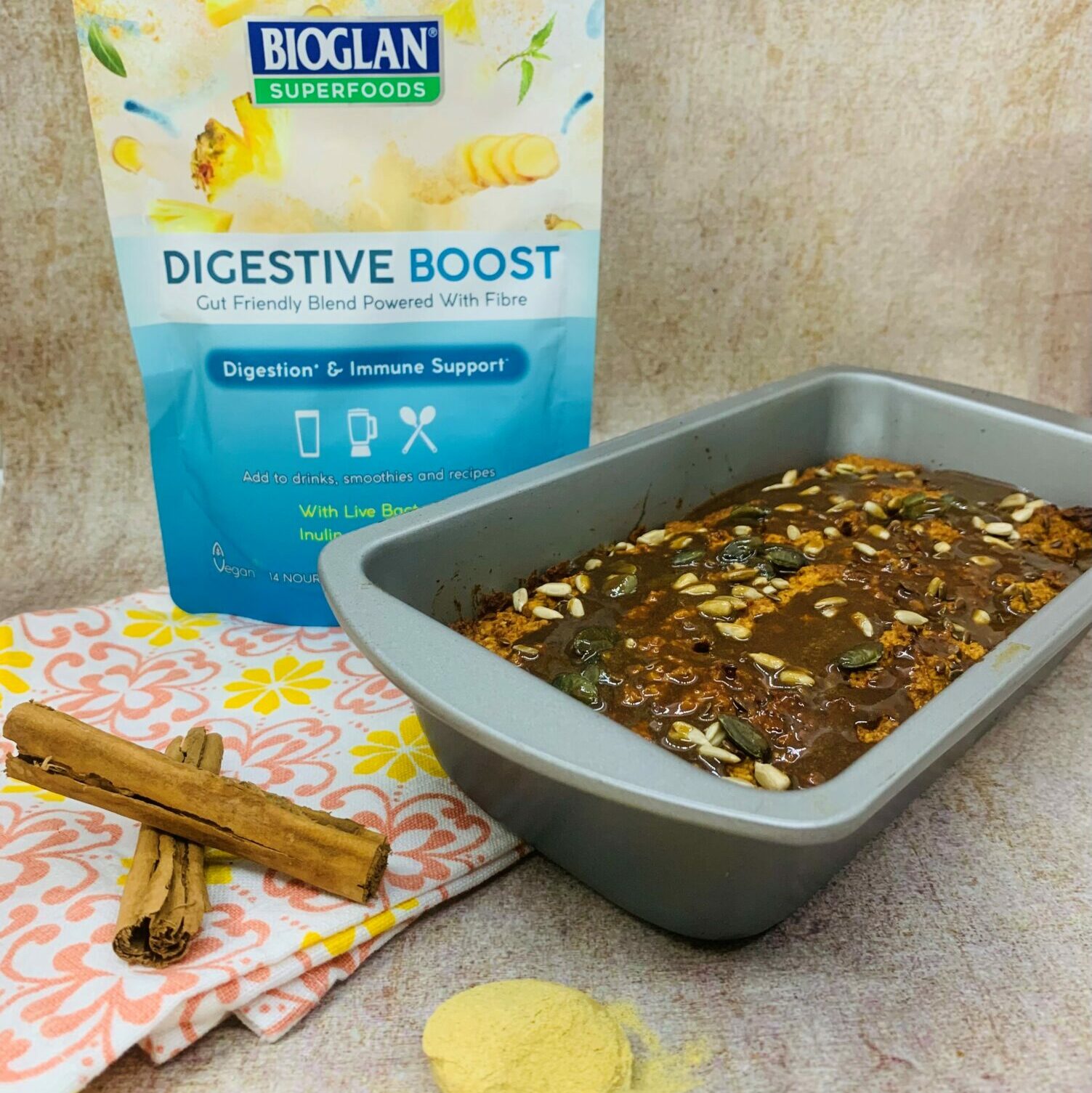 Butternut Squash Bread
with Digestive Boost

6

Two Hours Thirty Minutes
This recipe screams Autumn! A deliciously soft butternut squash bread topped with a healthy coconut sugar glaze. We've added a teaspoon of our  gut-friendly Digestive Boost blend to the glaze for that all important digestive support.
Ingredients
Buy ingredients online at your selected retailer
For the bread:
2 cups of butternut squash (roasted and pureed)
½ cup applesauce
¾ cup agave syrup
½ cup extra-virgin coconut oil (melted)
A dash of vanilla extract
2 cups of rolled oats flour
½ cup rolled oats
1 tsp baking soda
1 tbsp milled flax & chia seeds
¼ tsp cinnamon
¼ tsp ground ginger
Mixed seeds to top
For the glaze:
1 cup coconut sugar
3 tbsp soya milk
Dash of vanilla extract
1 tsp Bioglan Superfoods Digestive Boost
Method
1. Preheat the oven to 200 degrees.
2. Roast 2 cups of butternut squash in the oven, drizzled with olive oil, salt and pepper for about an hour until the squash is soft.
3. Blend into a puree.
4. Reduce oven heat to 180 degrees.
5. Lightly grease a loaf pan with an oil spray.
6. In a mixing bowl combine the oat flour (you can make oat flour yourself by blending oats), rolled oats, baking soda, flax and chia seeds, cinnamon and ginger.
7. In another bowl mix together the coconut oil, vanilla, and agave syrup. Stir in the applesauce and butternut squash puree until combined.
8. Add the wet mixture to the dry ingredients and mix well.
9. Pour the bread batter into your loaf pan and top with mixed seeds (we topped ours with toasted brown linseeds, toasted pumpkin seeds and toasted sunflower seeds). Bake for 50 minutes or until a toothpick comes out clean.
10. Let it cool for 15 minutes and while waiting, mix the ingredients together for the glaze, place in a blender for a smooth consistency. Top the bread with the glaze and enjoy!