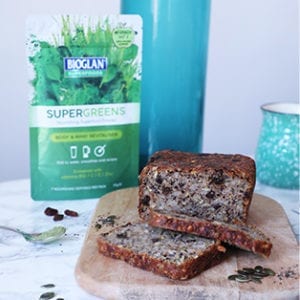 A Superfood Day
Seven days. Seven recipes. Seven superfood boosts. Our quick and easy way to get superfood goodness into our bodies this time of year.
As we're championing the importance of balance this month, it's the perfect time to start thinking about these superfood quick wins. Inspired by the spirit of Lagom and it's 'just the right amount' ethos, our approach is to add one simple, superfood tweak to your diet every day.
If you want to give it a go, we've created a 7-day meal plan to help keep you on track in your quest for balance. A round-up of our favourite recipes and tips to make going superpowered 7 days a week easy – and delicious!
From our brand new Supergreens Seeded Loaf recipe to tried, tested and much-tasted comfort foods like our Superpowered Pancake recipe, a superfood boost is just the case of shaking it into some of your daily favourites. So tuck in and achieve the balance.
You Will Need:
500g mixed grain bread flour

2 tbsp Bioglan Supergreens Powder

2 tbsp flax seeds

1 tbsp sunflower seeds

2 tbsp pumpkin seeds

1 tbsp chia seeds

1/4 cup raisins (optional)

2 tbsp chopped almonds (optional)

1 sachet fast-action yeast

2 tbsp olive oil

1 tbsp honey

300 ml warm water

pinch of salt
Method:
Combine the flour, Supergreens Powder, seeds and yeast

Separately, combine the oil, water and honey then add to the dry mix

Stir together to make a soft dough (you may need more flour or water, depending on consistency), adding the raisins and almonds halfway through, if using

Knead the dough on a lightly floured surface for 5 minutes or so, adding more flour if needed

Add the dough to an oiled loaf tin, ensuring it is evenly spread

Cover with a tea-towel and leave to rise for an hour (the mixture should spring back up when pressed with your finger)

Brush with water and sprinkle with any leftover seeds

Bake in a pre-heated oven at GM 6 / 200 C / 180 C (fan) for 35 mins (might need slightly more or less depending on your oven) until the loaf has risen and golden

Once baked, leave to cool on a rack. Paired perfectly with nut butter!
Weekday Recipe Inspiration: