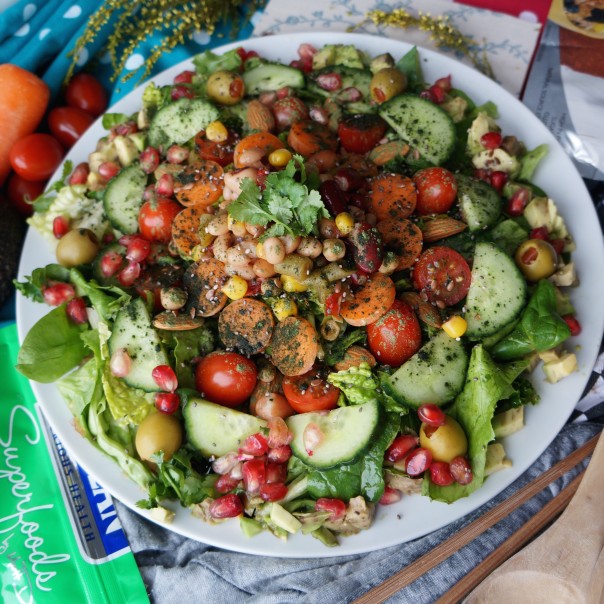 Superfood Salad
Recipe by Big City Dreamer

Serves 1

Takes 20 minutes (plus overnight)
This super salad recipe is packed with a rainbow of delicious vegetables and superpowered by Bioglan Superfoods Flax + Chia seeds and Green Boost.
Ingredients
Buy ingredients online at your selected retailer
1 cup romaine lettuce, washed + torn
1 cup spinach, washed + torn
1 cup kale, washed + torn
1⁄2 cucumber, sliced
1 small carrot, sliced
small handful plum tomatoes, halved
sprinkle of pomegranate seeds
3 tbsp mixed beans/ legumes
2 tbsp sweet corn
a few olives, if desired
a few almonds
1 tbsp Bioglan Flax + Chia
1-2 tsp Bioglan Superfoods Green Boost
fresh herbs (parsley, mint, coriander etc.)
dressing
Method
Toss together the greens. Add the cucumber, carrot, tomatoes, pomegranate seeds and olives if using. Top with the mixed beans/ legumes, sweet corn and almonds, drizzling with your desired dressing. Sprinkle over the mixed Flax + Chia, some finely chopped fresh herbs and the Green Boost.