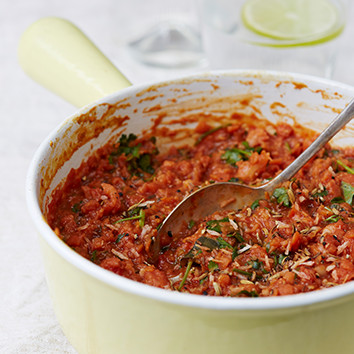 Beetroot and Butternut Curried Dahl
Recipe by Natasha Corrett

Serves 2

20 minutes
Natasha Corrett:
When training and exercising is a big part of your life it is so important to nourish through food supporting your nutrition plan. Eating great sources of vegetarian protein helps to re-build muscle making you stronger for your workouts. This delicious Beetroot Dhal recipe is full of protein and alkaline ingredients to help cleanse the body. Adding the Beetroot powder to the recipe helps to improve muscle function and stamina. It is amazing how eating the right foods to support an active and busy lifestyle helps to improve our performance and overall wellbeing whereas, eating the wrong foods will leave you feeling tired, exhausted, bloated and lacking in energy.
Ingredients
Buy ingredients online at your selected retailer
1 onion
1 garlic
1 tbsp Bioglan Superfoods Coconut Oil
1 tsp grated fresh turmeric
1 tsp cumin seeds
1 tsp ground coriander
1 tsp ground ginger
1 tsp fennel seeds
150g red lentils
230g butternut squash (2cm cubes)
500ml water
4 curry leaves
60g tomatoes
2 tbsp Bioglan Superfoods Beetroot powder
200g cauliflower
20g fresh coriander to serve
Sliced fresh chilli
Optional garnish: 1 tbsp desiccated coconut
1 tbs fennel seeds
2 tbsp cumin seeds
Method
In a frying pan (this is important to use a frying pan not a sauce pan) sauté for 2 minutes with the onion garlic turmeric, spices in the coconut oil and then add ¼ cup water and leave for another 2 minutes, then add lentils. Add 300ml water and simmer for 2 minutes. Next, add 200ml water and butternut squash and cook for 5 minutes.
Add the curry leaves, tomatoes and beetroot powder and simmer for a further 5 minutes.
Add cauliflower and stir on a medium to low heat until the cauliflower softens
To make the optional garnish, put all ingredients into a dry frying pan and leave to toast for 2-3 minutes until the coconut goes golden. Take off heat and sprinkle over the top.
Serve with fresh coriander and sliced fresh chilli.