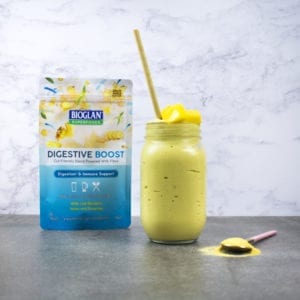 Introducing Digestive Boost – What your microbiome has been waiting for!
Did you know the UK population is eating less than two thirds of the recommended 30g of fibre per day? Fibre is essential for our gut health and it's also important for a number of other health reasons.
When we talk about gut health, we are referring to the trillions of 'good' bacteria that live in our gut to help with digestion and immune function. Did you know that 70% of our immune system is within our gut and it's also where 90% of our serotonin (the happy chemical) is produced? This gut eco-system is so important to our health and it's vital to look after the good bacteria to ensure we are happy and healthy.
Good gut health has also been linked to weight loss, good skin, having more energy, and lower levels of stress.
This is why we are so excited to share the news of our brand-new superfoods blend, Digestive Boost, this month. Digestive Boost is a vegan, microbiome-friendly blend of live bacteria, fibre and digestive enzymes.
Each serving contains 500 million live cultures, and inulin which is a fibre naturally found in vegetables such as chicory. Digestive Boost also contains nettle leaf, dandelion, ginger and turmeric, along with calcium which aids the function of digestive enzymes in the gut. All of these ingredients are blended with a delicious natural vanilla flavour, so you can easily add Digestive Boost to your daily routine and keep your tummy smiling on the inside!
You can add it to your smoothies, in a glass of cold milk or add it to your breakfast, easy! If you want some more inspiration, take a look at some delicious Digestive Boost recipes here.
You can find Digestive Boost exclusively in selected Holland and Barrett stores or on our website. Customer feedback is super important to us so once you've tried it, we'd love to hear your thoughts and would really appreciate it if you could pop us a review!