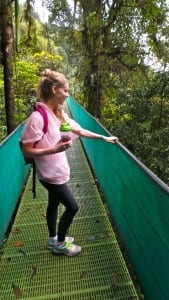 The Smart Guide to Travel Sustenance by Poppy Cross
We've all experienced the perils of plane food. That dreaded moment when the trays of dehydrated bland blobs accompanied by unidentifiable desserts (so bright that they'd certainly be deemed deadly to any species in the jungle) land in our laps masked in tinfoil to momentarily disguise the misery that lies beneath. (Click here if you need a recap.) It's a debilitating experience, peeling back that silver paper – but worse still is the aftermath of the stodgy, sugary assault on the senses. Your sugar levels suddenly soar only to plummet lower than before soon after leaving you feeling sluggish as your digestion goes into overdrive.  So why put yourself through it?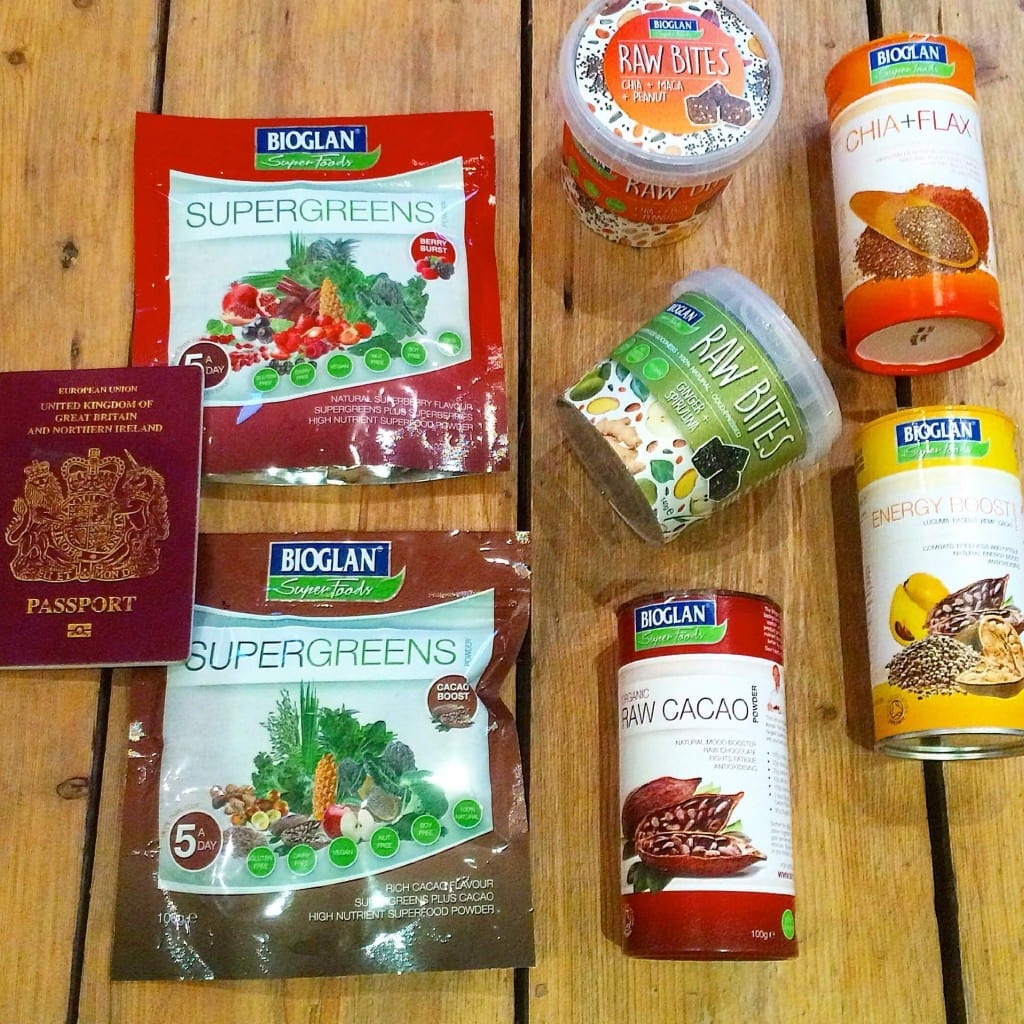 Fool me once shame on you, fool me twice shame on me. My friends, it's time to take some action against PF. Take my advice and arm yourself pre-flight with some nutritional sustenance that will make you feel energised, allowing you to spring from your seat as soon as you reach your destination. When I flew to Costa Rica before Christmas this is exactly what I did. The journey entailed one flight to Mexico (10 hours) plus a three hour flight to CR's capital San Jose. As you can see from the picture above, I packed the following in my hand luggage:
1 and 2) Bioglan Superfoods SUPERGREENS powder x 2 (one in berry flavour and one in chocolate flavour)
3 and 4) Bioglan Superfoods Raw Bites (chia, maca and peanut) and spirulina and ginger
5) Bioglan Superfoods Raw Cacao Powder
6) Bioglan Superfoods Chia and Flax powder
7) Bioglan Superfoods Energy Boost (contains lucuma, baobab, hemp and cacao)
I had quite the picnic and my Bioglan Super Foods were the perfect snacks. In addition, I'd also made a pre-flight pit-stop at Pret and bought a couple of salads for the journey – one chicken, (lunch) the other crayfish and avocado (supper). I munched my way through the salads along with my Bioglan Superfoods berry flavoured supergreens powder, which helped keep me hydrated as well as nourished at 38,000 ft. My sugar levels remained stable throughout the flight with no violent peaks or troughs, and sure enough, when the plane landed I felt ready to rock and roll rather than heavy and lethargic.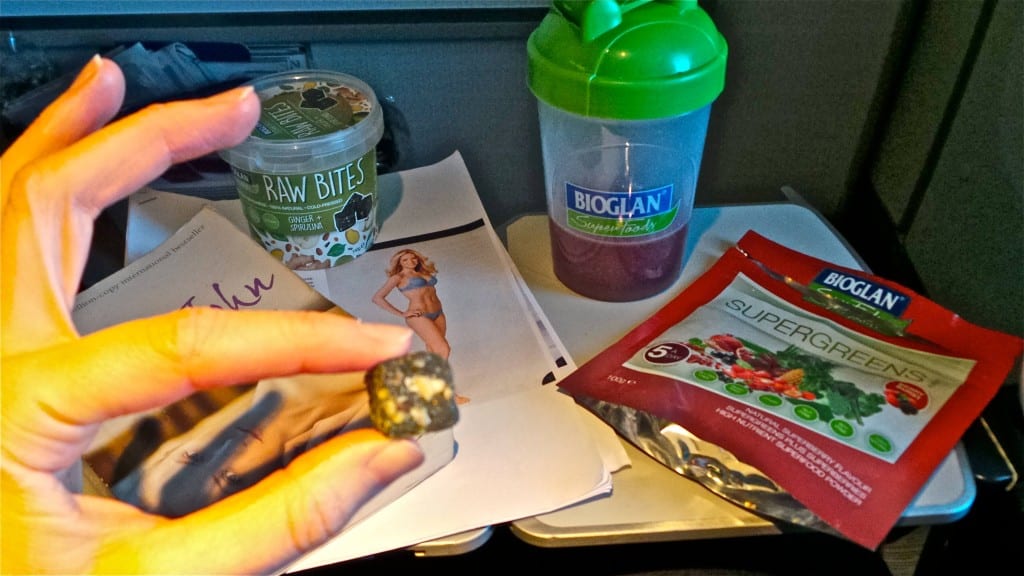 I opted to take the Bioglan Superfoods snacks and powders because, as well as tasting delicious and supplying a high concentration of vital vitamins and nutrients, they can also help combat fatigue. For example, the high vitamin C concentration in the Super Greens powder contributes to normal energy yielding metabolism. It is also a source of iron which can help to combat tiredness.
(The view of the sunset at 38,000 ft was pretty spectacular.)
Once I arrived in Costa Rica, I was glad I still had some of my Super Greens powders plus a strong supply of my other Bioglan Superfoods powder mixes (the Raw Cacao Powder, the Chia and Flax powder and the Energy Boost which contains lucuma, baobab, hemp and cacao – which I sprinkled on oatmeal in the mornings and added to smoothies) to keep me nourished and hydrated throughout the trip. Sometimes drinking enough water when you travel can seem like a chore, but when you mix water with powders such as the Bioglan Superfoods Super Greens (my favourite, they taste delicious and not at all 'green') – you lap the liquid up like there's no tomorrow.
I took the Super Greens (containing 81 nutrients) mixed with water on my jungle treks which kept my sugar levels stable and gave me energy whilst also keeping me hydrated. The Super Greens can also help ensure you get 5 portions of fruit and vegetables every day – which can be especially helpful when traveling and access to fresh fruit and veg may be difficult.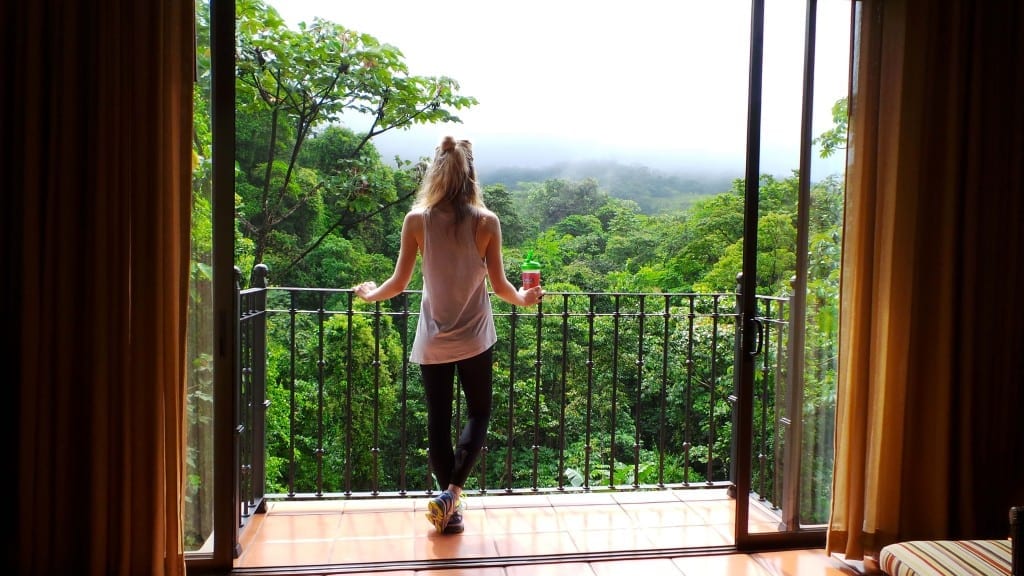 I'm taking part in Bioglan Superfoods new campaign to support and nourish the lives of active girls like me!