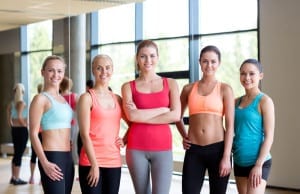 The Rise of the Fit Tribe
It's Sunday night, where do you arrange to meet friends? For one group, it's Julie Montagu's packed yoga class at Triyoga Chelsea. 'Beforehand, everyone is talking and laughing, it's very, very chatty!' says Julie. 'So many of the class have got to know each other by having their mats next to each other. It's been amazing for me as a teacher to watch these relationships form.'  
This trend for forming exercise buddies is being repeated in all kinds of sports. Maybe you meet at a Frame Rave class in King's Cross? Or for a wild swim? Or you've joined a local netball team, or just love seeing the gang at boxing or Zumba.
As wellness has become bigger in people's lives, so the social crossover has grown, too. It increasingly happens at work, too, says Hollie Grant, Pilates expert. 'Lots of big companies setting up sports teams within their business, for example learning to row, and I've seen my clients get a lot out of that.'
Joining together will make you feel good, as well as making you more likely to exercise. 'Generally most humans are at their best when interacting and inspiring and being inspired by others,' says trainer Dan Roberts, creator of the Methodology X home workouts. 'When you play in a team, you get a sense of community and oneship.'
How to find your fit tribe:
Think about what you like: music and dance, being in a team, getting calm with yoga, pounding the streets, hiking in nature?

Get on social media to find your tribe. 'It's easy to connect with people who have the same interests as you now, even if it's a minority sport,' says Dan.

If this all seems too organised, next time you're due to meet, start out in the park, dogs optional!