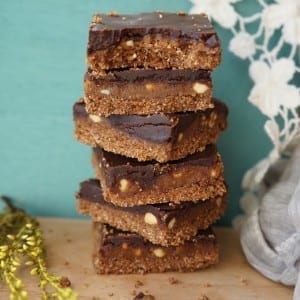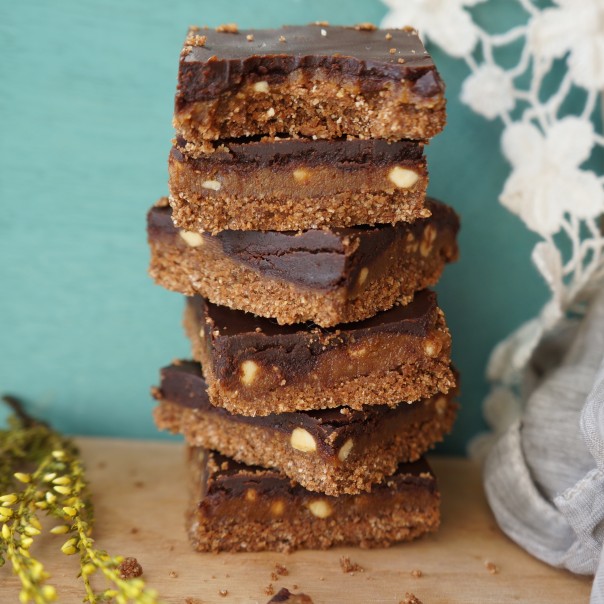 Superpowered Millionaire's Shortbread
The Swedish principle of Lagom or 'just the right amount' is all about balance. The idea is that if we enjoy everything in moderation we can feel good about our choices – even when they fall the wrong side of healthy.
The perfect mantra for the winter months, when energy levels can dip and we crave warm, comforting food, it's one we're adopting this November with our seasonally-themed and incredibly delicious Millionaire's Shortbread.
Proving that superfood goodness doesn't always have to come in green smoothies, this deliciously decadent dessert means you can have your cake – and eat it too! Thank goodness for Lagom…
Superfood-filled, this treat is packed with Bioglan Superfoods Organic Cacao and Flax + Chia blends. That means you can count on added protein, zinc, fibre, magnesium and copper – quite a superfood mix.
So with every spoonful, not only are you treated to a rich, indulgent shortbread, but you'll also help beat fatigue, gain bags of energy and as both these blends are full of protein, will be supporting the growth and maintenance of muscle mass.
Be honest, we've tempted you, right? If so, find the recipe below and enjoy!
Base Layer:
3/4 cup ground pecan nuts

2 tbsp

Bioglan Cacao Powder

3 tbsp

Bioglan Flax + Chia

3 – 4 tbsp syrup of choice (maple syrup, coconut syrup etc.)

1 tbsp coconut oil, melted

Combine all ingredients until they clump together (you can do this by hand)

Press into a small lined square baking tray – the smaller the tray, the thicker the layers!
Middle Layer:
12 medjool dates, soaked, 1/2 almond butter (or other nut butter of choice)

3 tbsp syrup of choice (maple syrup, coconut syrup etc.)

1 tbsp coconut oil, melted

Add everything to a blender and blitz until combined

Spread on top of base layer

Put in the fridge or freezer while you're making the next layer
Topping:
1/4 cup Bioglan Superfoods Cacao Powder

1/4 cup coconut oil, melted

3 tbsp syrup of choice (maple syrup, coconut syrup etc)

Mix the cacao, melted coconut oil and coconut syrup together until you have a smooth, melted chocolate

Pour on top of the middle layer and spread evenly with a spatula (bang the base of the tray on the worktop a few times to make the top smooth and even)

Set in the fridge for 30 mins and you're good to go

Cut into squares and store in the fridge!