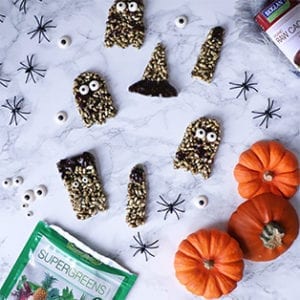 SUPER SCARY HEALTHY TREATS FOR ALL THE FAMILY THIS HALLOWEEN (with a few superfood Tricks!)
Often the scariest thing about Halloween is a number of sugary treats that kids devour – often before they've even finished their first round of 'trick or treat'.
While we can't always say no to every little indulgence, this Superfood Monster Treat recipe from the super talented Pamela Higgins is one surefire 'trick' to get some serious greens into hungry little mouths this October.
The yummy, antioxidant-rich, organic Bioglan Superfoods Cacao Powder gives these treats their delicious chocolatey flavour, while the Supergreens vivid green adds a  spooky twist that contributes towards a child's 5-a-day. These scarily healthy bites not only look impressive, but they've got hidden super powers to help deliver immune supporting vitamin C with pre and probiotics to help maintain a healthy balance of gut bacteria – perfect for combating a Halloween sugar overload!
What's more, making them with the family is the ideal way to get creative with the little ones and encourage them to play with their food – in a very good way!
SUPERFOOD MONSTER TREATS
Ingredients:
4 tablespoons coconut oil
4 tablespoons almond butter
8 tablespoons maple syrup
50g puffed brown rice (no added sugar or salt)
2 teaspoons Bioglan Superfoods Supergreens Powder
For the chocolate –
2 tablespoons coconut oil
1 tablespoon almond butter
3 tablespoons maple syrup
4 tablespoons Bioglan Superfoods Cacao Powder
Get making!
Gently melt the coconut oil, almond butter, and maple syrup.

In a bowl mix together the puffed rice and Supergreens powder then pour in the melted mixture and stir well to combine – it should stick together.

Tip into a lined 9x9in deep baking tin and pack in tight, smooth out evenly then chill in the fridge for at least 2 hours.

Now make the chocolate: Melt the coconut oil, almond butter, and maple syrup then whisk in the cacao powder.

Remove the tin from the fridge, lift out and place on a chopping board. Use a sharp knife to cut into 8 rectangles then place on a wire rack.

Spread some of the chocolate over ⅓ of each then use the remaining chocolate to drizzle over and create a smile with lines through. Add two flaked almonds on each for eyes – press in and they should stick. Now enjoy!
Keep in the fridge for up to 5 days and eat straight from chilled.