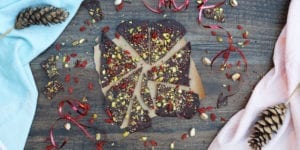 Sprinkle Cacao on your Christmas
If you're battling to get into the festive spirit (or even if you're not), then we prescribe cacao. It's a natural mood-booster that gives you a hit of chocolaty indulgence alongside a healthy helping of antioxidants. Whether you're after some sophisticated petit-fours to impress your Christmas dinner party guests or a homemade stocking filler, every one of these recipes is guaranteed to superpower your Christmas cheer.
Raw Cacao Truffles
Stuck for a Secret Santa idea? These make the perfect personalised gift. Finish with a simple dusting of cacao or a crunchy coating of chopped nuts.
Makes 16
Ingredients
300g dark chocolate, chopped
3 tbsp Bioglan Superfoods Coconut Oil (or 1 ½ tbsp butter)
1 pinch sea salt
240 ml light coconut milk (or 300ml double cream)
1 tbsp Bioglan Superfoods Organic Cacao
Method
Add the chopped chocolate, coconut oil (or butter) and sea salt to a glass bowl.

In a saucepan, heat the coconut milk (or double cream) over a low heat until warm. Whisk in the cacao powder.

Pour the milk and cacao into the glass bowl with the chocolate and coconut oil (or butter). Stir gently to melt the chocolate (be gentle! Over-enthusiastic stirring could make the mixture seize).

Once you have a silky-smooth mixture, cover the bowl with cling film and set in the fridge for at least three hours.

Once set, use a teaspoon to scoop out portions of the mixture and roll into balls (this bit's messy!), placing them on a tray.

Pick your finish! We like to cover half in a dusting of cacao powder, and roll the rest in chopped nuts.

Store in the fridge for up to a week.
Cacao Bark
We're not quite sure why, but chocolate bark is totally Christmassy. The great thing about this recipe is that you can pick any topping you like (or just use whatever happens to be knocking around). Pistachio and cranberry? Yes. Chilli and sea salt? Yep. Freeze-dried raspberries? Definitely.
Fills one 30×19 tray
Ingredients
90g raw cacao butter (try your local Holland and Barrett)
60g Bioglan Superfoods Organic Cacao
60g liquid sweetener (we like using agave syrup or pure maple syrup)
1 pinch sea salt
Method
Melt the cacao butter slowly over a medium heat, stirring occasionally.

Once melted, sift in the cacao powder, stir, and add the liquid sweetener and sea salt. Stir again to combine.

Line a tray with baking paper. Pour the mixture into it and spread evenly with a spatula. It should be about half a centimetre thick.

Decorate with your chosen toppings. Be creative – nuts, seeds, chilli flakes, dried fruit, candied peel – anything goes!

Set in the freezer for 30 minutes until hardened. Break up into shards, either by hand or using a rolling pin to smash.

Store in the fridge for up to a week.
Chilli Con Cacao
An indulgent winter-warmer, nothing beats a steaming vat of chilli con carne. Right? Wrong. There is one thing that's even better – chilli con carne, superpowered with a hit of cacao. Bringing a decadent depth of flavour, it's the ultimate secret ingredient for this dish.
Serves 4
Ingredients
1 large red onion
1 red pepper
1 garlic clove
1 tbsp olive oil
1 pinch salt
1 tbsp chilli powder
1 tsp paprika
1 tsp ground cumin
500g lean minced beef
1 tbsp Bioglan Superfoods Organic Cacao
1 beef stock cube, dissolved in 300ml boiled water
500g chopped tomatoes
1 tbsp tomato puree
410g red kidney beans
Pepper (to taste)
Method
Chop the onion and red pepper into large dice and crush the garlic clove.

Heat the oil in a saucepan over a medium heat. Add the onions with a pinch of salt and cook, stirring frequently for about five minutes until soft and translucent.

Add the crushed garlic, red pepper, chilli powder, paprika and ground cumin and give it a good stir. Sauté for a few minutes, stirring frequently.

Turn up the heat a little and add the minced meat to the pan, breaking it up with a wooden spoon. Keep it moving in the pan until browned all over.

Add the cacao powder and stir to coat all the beef.

Pour in the beef stock, chopped tomatoes and tomato puree and stir through.

Bring everything to the boil before turning turn the heat down. Put a lid on the pan and leave to simmer for at least 30 minutes (the longer the better), adding more hot water if the mixture dries out. Stir regularly to prevent the meat sticking to the base of the pan.

Drain and rinse the kidney beans and add to the pot. Simmer for a further 10 minutes to cook the beans.

Season to taste with a good sprinkle of crushed sea salt and cracked black pepper.

Before serving, let the pot stand with a lid on for a further 10 minutes to let the flavours develop.

Serve with rice or wraps, a dollop of sour cream and freshly-chopped coriander.