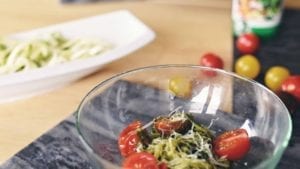 Spring into health with 3 essentials
by Elena Sandor
Spring must be my favourite season. Everything turns back to life, magic happens and no wonder we feel much more energetic and ready to conquer even the highest hills. Food wise, the market fills with fresh vegetables, which can't wait to land on your plate. So many vitamins our bodies have craved during the winter, and so many recipes to choose from, but how do you start preparing yourself for best experiencing Spring in your kitchen? The Chinese cuisine is flavourful, using the most fresh ingredients, without too much preparation or cooking time, so I will definitely recommend a dish inspired from this area.
First of all, you need a good wok. The Ching He Huang's Lotus wok to be more precise. I've been using so many pans in my kitchen, different types, different brands and some were too heavy, others were sticky, nothing really worked. I love creating fast dishes, and stir fries are on my list on a busy week. I tend to stay away of takeouts and prefer to spend extra time in my kitchen for a healthier, tastier and less expensive alternative.
The Lotus Wok created by Ching He Huang, British Chinese food writer and TV chef, is a carbon steel wok that combines the benefits of authentic wok cooking with modern science to produce something extraordinary. The nano-silica coating that acts as a barrier will not allow sauces and liquids to permeate the lotus leaf-life surface. The wok is really easy to clean, and also helps prevent vegetables from getting soggy, so you are left with beautiful crisp, fresh tasting food. I am in love with this wok and will be using it daily, because it distributes high temperatures evenly and doesn't need too much oil. I already sense a healthier lifestyle.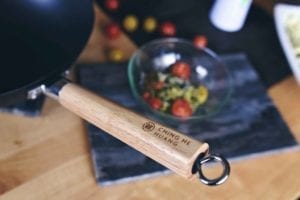 Second, you need a new toy in your kitchen. The Veggetti 2.0 might become one of your favourite things to play with, especially when eating healthy can become quite a burden, time consuming, expensive and unnecessary complicated. However, this spiralizer can create a range of healthy and delicious vegetable dishes in seconds. It is fun too, and kids will become addictive to zucchini spaghetti and carrot noodles, to name just a few.
It is really simple and easy to use the Veggetti 20, just like a pencil sharpener. How about homemade rostis, ready in seconds?  Eating right doesn't have to be boring, reduce your intake of carbohydrates effortlessly by switching pasta for courgetti. I have a delicious recipe waiting for you at the end of this article.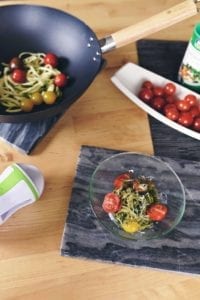 Third, you need the right superfood. I've been using Supergreens Superfood from Bioglan for a while now, as a supplement, because being pregnant takes a toll on my body, and I need any extra boost I can get. I might forget to eat all the recommended 5 a day, but with 81 vital ingredients to contribute to complete body health, Supefoods Supergreens is all I need.
Providing the complete spectrum of A-Z nutrients derived from fruits, veggies, herbs and live cultures to help nourish your body from the inside out. If you need a multivitamin boost, energy and vitality, help towards your 5-a-day, then Bioglan Supefood Supergreens is an excellent source of vitamins and minerals to do jus that. Let's not forget it also improves digestion, so what are you waiting for? Start a healthy lifestyle this spring!
Yield:2 portions

Prep Time:5 minutes

Cook Time:10 minutes
Zuchinni noodles with kale pesto
Ingredients:
Instructions:
For the pesto:
Place the kale leaves, basil, and salt in a food processor fitted with the blade attachment. Process until the kale mixture is thoroughly chopped and almost paste-like. `

While the food processor is still running, drizzle in the olive oil very slowly. When all of the oil is incorporated, turn off the food processor.

Add the pine nuts and garlic and pulse until the mixture is combined but still very grainy, 10 to 15 pulses.

Add the grated cheese and

Bioglan Superfood Supergreens

, pulse just to combine, 3 to 5 pulses. You'll need ⅓ cup of pesto for this recipe. Store the rest in an airtight container in the fridge for up to 5 days or freeze it for up to 3 months.
For the zucchini noodles:
Use the

Veggetti 2.0

spiralizer  to spiralize the zucchini into spaghetti-shaped noodles. If you don't have a spiralizer, you can still make this recipe! Just use a vegetable peeler to peel the zucchini into thin ribbons. At this point I will boil them in hot water for 2 minutes, just because I like them soft, but you can leave them like this.

Heat the olive oil in a

Lotus Wok

over medium heat. Add the pesto and cook, stirring occasionally, just until the pesto is fragrant, about 30 seconds.

Add halved tomatoes and zucchini noodles and cook, stirring, until the noodles are coated with the pesto and slightly softened, about a minute. Add the Parmesan and cook, stirring, just until the parmesan is melted.

Divide between two serving bowls and top with more pesto and parmesan, if you want!