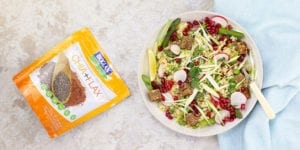 Recipe: Superpowered Tabbouleh
Cutting down on the amount of meat in your diet is good for your body and good for the planet, so at Bioglan Superfoods we've adopted the 'flexitarian' trend with open arms (and mouths). If you've been thinking of giving it a go yourself, or if you're already veggie and just want to try out some new recipes, National Vegetarian Week (15th – 21st May) is a great excuse.
This recipe for our Superpowered Spring Tabbouleh is totally meat-free, loaded with a superfood boost in the form of Bioglan Superfoods Chia + Flax, and works fantastically as a picnic salad, BBQ side dish or al-desko lunch.
Superpowered Spring Tabbouleh
Great for: Fibre, protein, essential fatty acids, B-vitamins and plant-based omega 3 – so you can count on improved digestion as well as healthier hair, skin and nails. How's that for a dish that's chock-full of benefits?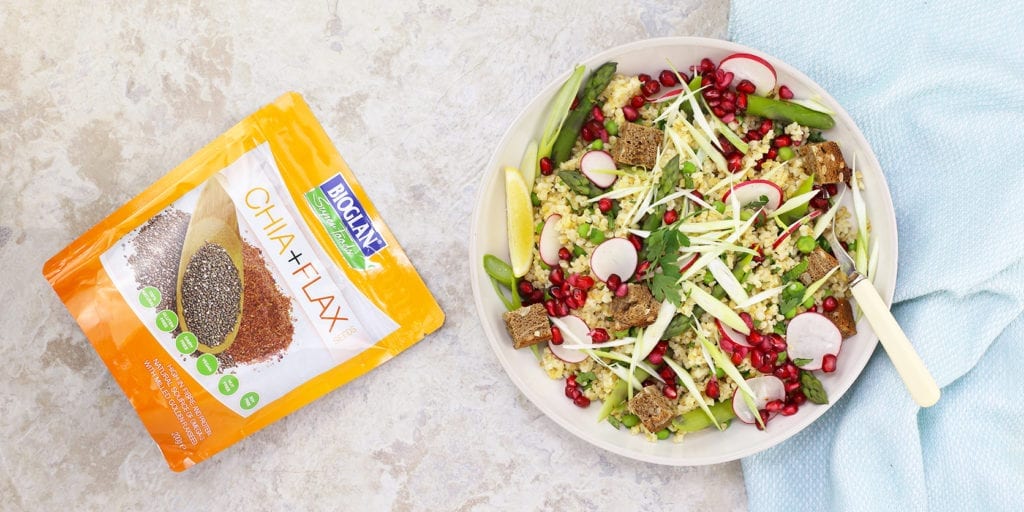 For two servings, you'll need:
100g bulgur wheat
4 asparagus spears
2 spring onions
4 radishes
A handful fresh peas
2 slices of rye bread
1 tbsp olive oil
A small handful of fresh mint
A small handful of fresh parsley
Juice of half a lemon
1 tbsp Bioglan Superfoods Chia + Flax
Salt and pepper
25g pomegranate molasses
Make it:
Pre-heat the oven to 180C and place two pans of water on the hob to boil.

Add the bulgur wheat into one pan and cook for about 15 minutes until tender.

While the bulgur wheat is cooking, slice the asparagus into half-centimetre chunks (leaving the heads intact), and finely slice the spring onions and radishes into discs.
Add the asparagus and peas into the second pan of boiling water and cook until tender for about five minutes.

Slice the rye bread roughly into two-centimetre chunks and place on a baking tray. Drizzle with olive oil and toast in the oven for two minutes until they become crispy croutons.

Drain the bulgur wheat, asparagus and peas and prepare to assemble!

Roughly chop the parsley and mint leaves and tip into a clean bowl with the bulgur wheat and lemon juice. Mix them all together..

Add the

Bioglan Superfoods Chia + Flax

and spring peas to the bowl and stir through once more before seasoning with salt and pepper to taste.

Tip the mix onto a serving dish and top with the chopped radish, spring onion asparagus and peas.

Garnish with a scattering of the pomegranate molasses and rye bread crouto

ns.