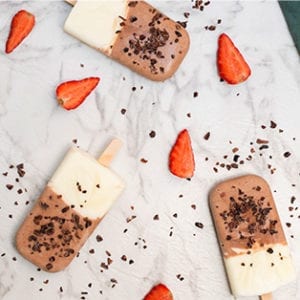 Recipe: Cacao Coolers
Anyone else feeling a bit on the warm side right now? Don't get us wrong – we're not complaining, but we could sure do with something a little icy to cool us right down. These yoghurt and cacao ice lollies are just the ticket, plus, they're absolutely packed with superfood goodness.
Antioxidant-rich and packed with mood-boosting flavonoids, pure, raw cacao can help to increase your energy levels when the warm weather has you feeling a bit sluggish. In short, it's perfect for a happy, healthy summer.
Recipe: Cacao Cooler
Makes 8
You will need…
650g Greek yoghurt
3 tsp Bioglan Superfoods Cacao Powder
½ tsp vanilla extract
Ice lolly moulds, and wooden lolly sticks if they don't come as part of the mould.
Measure out half of the Greek yoghurt and stir in the

Bioglan Superfoods Cacao Powder

. The mixture should be lump-free and all one colour.

In another bowl, mix the vanilla extract in with the remaining yoghurt.

Pour the Cacao-flavoured yoghurt into ice lolly moulds so that they half-fill each container. Top up with the vanilla mixture.

Pop a wooden lolly stick (or the stick that forms the mould, if it comes with one) into the top of each one.

Freeze until solid – this will take at least four hours.

Serve with a drizzle of honey or agave nectar and a healthy dose of summer sunshine.
Top tip: The cacao in this recipe can also be swapped for our Bioglan Acai + Berry Powder for a more fruity twist on the cooler.