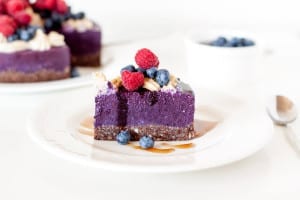 Raw Has Gone Luxe
Raw food is no longer hippie but luxe, as evidenced by raw confectionary makers The Hardihood. The duo, Leah Garwood-Gowers and Daisy Payne, makes layered desserts that look like works of art, including carrot cake, salted caramel cake and even banoffee pie. And although their creations look like the most indulgent of sweets they are, in fact, all raw, vegan and made with only natural sugars.
'The idea of raw desserts came about when we gave up sugar, and we were looking for healthy, nutritious versions,' says Leah. 'The main ingredients are nuts, coconut oil, dates, coconut sugar and superfood powders,' says Daisy. Like the trend, neither of the founders eats all raw – but what they do eat is delicious.
It's becoming increasingly easy to up your raw intake without resorting to a plain salad. In fact, it's the culinary creativity at London eateries such as Tanya's in Chelsea and Nama Foods in Notting Hill, where you'll find sprouted grains, nut 'cheese' and sauces, raw cacao, edible flowers and sea vegetables on the menu, that sets the new style of raw apart.
So what are the new ways to eat raw?
1) 'Just add a little raw each day,' advises Daisy. One easy way: use one of the all-raw Bioglan Superfood powders in your morning or mid-afternoon smoothie.
2) Make the Hardihood's raw protein balls – see the video and super-easy to follow recipe here.
3) Read Tanya Maher's The Uncook Book: An Essential Guide to a Raw Food Lifestyle (Hay House, £16.99), packed with recipes including for raw pad thai and pizza. 'You don't need to be 100 percent raw to reap the rewards,' says Tanya. 'Do what feels good to you, always include uncooked veggies and greens with your meal and call yourself "high raw".