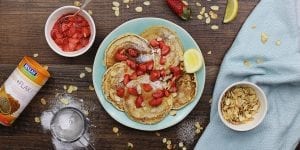 Pancake Day… Superpowered.
Stocking up on maple syrup, lemon and sugar and chocolate spread for Pancake Day on Tuesday? Before you hit the shops, let us introduce you to something a little more superpowered than your average stack. For pancakes that fuel our bodies as well as our tastebuds, we like to add Bioglan Superfoods Chia + Flax for a hit of fibre that guarantees a satisfied stomach and slow-release energy.
Because these are extra-special pancakes, we think they deserve an extra-special topping, so we've thrown in a deliciously nourishing poached rhubarb recipe to spoon over the top (save the leftovers for your porridge the next morning).
Frying pans at the ready…
Chia + Flax Pancakes
(Makes six)
200ml milk of your choice (we used almond)
1 large free-range egg
1 pinch of baking powder
120g self-raising flour
1 tbsp Bioglan Superfoods Chia + Flax
1 tsp Bioglan Superfoods Organic Coconut Oil, for frying
Whisk together the milk and egg in a bowl. Sift in the baking powder, flour and combine. Finally, stir through the

Bioglan Superfoods Chia + Flax

.

Melt the coconut oil in a frying pan over a moderate heat. Scoop a ladle of the pancake batter into the pan and cook it until small bubbles appear on the surface.

Once you see the bubbles, flip the pancake (either by catching some serious air OR with a spatula, your choice…) and cook the other side for a further minute before transferring to a plate.

Repeat steps two and three until all the mixture is used up and your pancake stack is looking tall.
(P.S. If your first pancake doesn't look perfect, don't worry – the first one is always the worst!)
Poached strawberries and flaked almond topping
50g strawberries
2 tbsp coconut sugar
1 tsp Bioglan Supergreens Berry Burst
½ tbsp lemon juice
2 tbsp water
A handful of flaked almonds
Preheat the oven to 180 degrees celcius.
Scatter the almonds over a baking tray and toast in the warm oven until lightly golden (keep an eye on them – they'll burn in an instant!)
While the almonds cool, chop the strawberries into small pieces and put into a saucepan with the sugar, lemon juice, Bioglan Supergreens Berry Burst and water. Simmer gently for 1-2 minutes until the strawberries are soft, but not mushy.
Strain the liquid into a bowl and set aside. Leave the strawberries to cool.
Put the liquid back in the saucepan and simmer until it becomes a thick syrup.
Top your pancakes with a spoonful of the poached strawberries, a drizzle of the poaching syrup, a few toasted flaked almonds and a dusting of icing sugar.