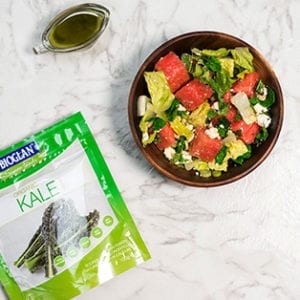 National Watermelon Day salad recipe
If you're anything like us, you're probably BIG fans of watermelon. Sweet and refreshing, it's the ultimate summer snack. But we think it's underrated as a salad ingredient – try this superfood spin on the classic treat at your next barbecue.
By adding a sprinkling of kale powder, you get an extra boost of calcium, vitamin C and energy-boosting goodness… plus ticking off one of your five-a-day in an easy (and delicious) step. Enjoy!
You'll need:
1 watermelon
2 spring onions
150g feta cheese
Salad leaves
Fresh mint leaves
3 tbsp olive oil
1 tsp Bioglan Superfoods Kale Powder
Squeeze of lime juice
Method:
Halve the watermelon and cut away the outer rind. Chop the remaining flesh into chunks about 3cm big.

Rinse and chop your favourite salad leaves and add to the bowl with the watermelon.

Slice the spring onion finely, and add to the bowl.

Cut the feta into small pieces (or crumble in your hands) and add to the bowl.

Chop or tear the mint leaves into smaller bits and add to the bowl. Mix everything together

In a jug or jar, mix together the olive oil, Bioglan Superfoods Kale Powder and lime juice. Drizzle over the salad and serve immediately.