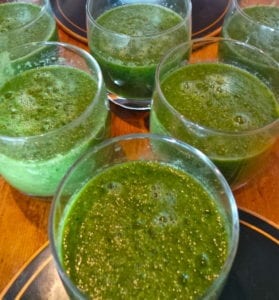 Making Detox Delicious by Poppy Cross
The eponymous Maya Clinic reputed for detoxing its guests with stale bread, broths and general gastronomic blandness/starvation means that many give a 'detox' a wide birth for fear of being hangry, tired and deprived. Happily though I'm here to tell you that detoxing does not have to be like this. Detoxing (which is in my book, quite simply just abstaining from the 'naughty' rich and sometimes toxic treats like alcohol, sugar and dairy and cashing in on all the good "healthy" stuff) can be delicious, abundant and make you feel fantastic as my recent trip to Chalet Rosiere with my Bioglan Superfoods Supplements in hand proved. Have a look at how I incorporated Bioglan Superfoods into my stay which allowed me to maximise my nutrient intake in the most delicious nutritious way. No deprivation, no hanger – just complete satisfaction.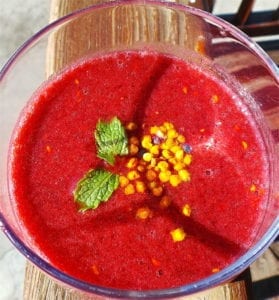 Recipe One – Supergreens Berry Burst Smoothie
Every morning at Chalet Rosiere I woke up to the view above and below with a freshly made smoothie. For each of these smoothie recipes just blend ingredients until they form a liquid. The smoothie above contains the following –
Ingredients for one:
1 small punnet of raspberries
1 small punnet of blueberries
1/2 punnet of strawberries
One teaspoon of Bioglan Supergreens Berry Burst
Sprinkle of Bee Pollen
Mint leaf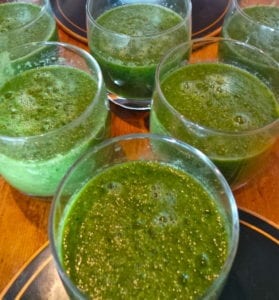 Recipe Two – Skinny Greens Smoothie
Ingredients for one:
1 bag of spinach
1 bannana
1 kiwi
One teaspoon of Skinny Greens (Contains milk thistle, dandelion, aloe vera).
Recipe 3: Soya and Coconut Sundae with Acai and Blueberry Compote
Ingredients for one:
Soya yogurt
Sprinkle of desicated coconut
Compote Topping heat in a pan:
Punnet of blueberries Blueberries
2 teaspoons of Bioglan Superfoods Acai powder.
2 teaspoons of Bioglan Superfoods Coconut Oil
Recipe 4: Apricot and Coconut Energy Balls (12)
Ingredients-
130g unsulfured dried apricots
2 tbsp. cashew butter
80g ground almonds, big handful of peacans
2 tbsp. melted Bioglan Superfoods Coconut Oil
3 tbsp. Bioglan Superfoods Chia and Flax Seeds
Instructions
In a food processor, pulse together the apricots, cashew butter and coconut oil until it turns to a rough paste. Next add the ground almonds and chia and flax seeds and pulse again until combined.

Roll in the peacans into the mixture and then roll into balls. You can then roll them in the additional desicated coconut to coat them. Place them into the fridge for 1-2 hours to set, keeping them there until you want to eat them.
N.B.
To find out why the Bioglan Superfood products can enhance your diet, click the links above. You're welcome!