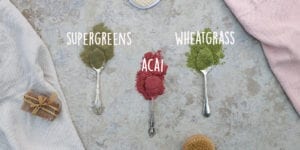 January Reboot Dos and Don'ts
The heady days of Christmas and New Year's are long gone, and it's time for a fresh start. If, like so many others, you're hoping to launch into 2017 with a spring in your step, you've probably been thinking about undertaking some kind of a 'cleanse'. Follow our dos and don'ts to make sure your new year plays out as a healthy lifestyle you enjoy and not an unsustainable 'fad'.
DOs:
DO keep hydrated.

Drink plenty of H2O to flush out toxins, leaving you feeling lighter, brighter and more energised. Time to get glugging.
DO prepare yourself.

The prospect of weaning yourself off stimulants like caffeine and sugar might seem daunting, but it doesn't mean you can't have a morning pick-me-up. Swap your coffee for a smoothie, superpowered with a spoonful of our Bioglan Superfoods

Green Boost Powder

,

and you'll get your boost without the post-caffeine slump.
DO exercise.

Yoga, walking, or spinning – whatever your chosen activity is, upping your exercise will reduce your natural stress hormones, leaving you feeling pretty zen. Our tip: Try a class you've never done before – nothing re-energises you like shaking up your routine.

DON'Ts:
DON'T be unrealistic.

There's no point taking on a challenge that's going to make you miserable, as you'll end up throwing in the towel and feeling demoralised. Small tweaks that you'll stick to will make a bigger difference than huge changes you won't.
DON'T deny yourself treats.

Our bodies know what they need, and if you've got an insatiable sweet tooth, that's not going to change overnight. Try our Bioglan Superfoods

100% Natural Cacao & Quinoa Raw Bites

for a sweet hit which won't leave you feeling like you've fallen off-track.
DON'T cut out essential nutrients.

Every body is different, but we all need a balance of essential nutrients. If you're cutting something out, make sure you're not losing the goodness that went with it. Feeling a little lacklustre? Look to our Bioglan Superfoods

Flax and Chia Seeds

for a boost of fibre, or a dash of our Bioglan Superfoods

100% Organic Spirulina Powder

for protein.