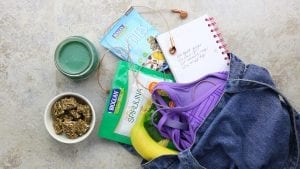 HIIT the park
Nobody enjoys being stuck inside a stuffy gym – and even less so when the sun is shining outside. Now that the weather's perking up, take your workout into the great outdoors and enjoy a hit of Vitamin D while you exercise. (Psst… you'll also save a fortune on gym memberships!)
To get you started, we've got a great workout to do in your local park that uses no equipment other than your own body and a park bench. And because every great workout ends with a great smoothie, there's a protein-packed Bioglan Superfoods Tropical Spirulina smoothie recipe below to refuel and replenish afterwards.
Get your sweat on
Warm up with a light 5 minute jog in the park. Find a bench, get some tunes going, and repeat the below circuit three times, with a 90 second rest between sets.
10 X squat jumps onto the bench
10 X press-ups
10 X walking lunges
10 X tricep dips from the bench
Cool down with a light jog home. Remember to finish off with a good stretching session, then reach for your smoothie. Whizz it up before you leave for the park, and it'll be chilling in the fridge ready for when you're done.
Bioglan Superfoods Tropical Spirulina Smoothie
Per portion, you'll need:
1 banana
½ chopped mango
Handful of spinach
1 heaped tablespoon of Bioglan Superfoods Tropical Spirulina
1 heaped tablespoon of Bioglan Superfoods Chia and Flax
Splash of orange juice
100ml coconut water (ice-cold)
Make it: Whizz everything together in a blender and leave to chill in the fridge.
Drink within 40 minutes after your workout for maximum refuelling.
See you in the sunshine!