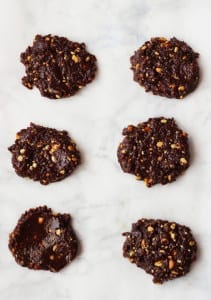 Flourless Chocolate and Peanut Butter Cookies by Gymbags and Gladrags
I fancied baking at the weekend so I spent a good part of Saturday morning Googling almond flour recipes, before realising I was out of almond flour and coconut flour – D'oh! Not wanting to change out of my sweats and venture outside, I decided to make flourless cookies. I settled on flourless chocolate and peanut butter cookies, because chocolate and peanut butter are my two favourite things. I didn't want to turn this baking session into a binge session, so I swapped Chocolate for Raw Cacao powder, I also added a blend of Maca Powder, Lucuma Powder & Hemp Proteinto give my cookies a nutritious boost.
I've recently teamed up with Bioglan Superfoods as part of their #SuperpoweredYou campaign to help inspire and superpower our lives. If healthy, nutritious, flourless chocolate and peanut butter cookies aren't inspiring and superpower-ing then I don't know what is. I joke, I joke. Each month I'm going to be sharing a new recipe with you that will have superfoods in them to show you how to pack more nutrients and health benefits into your food. Bioglan Superfoods powders are all made with 100% natural, raw and organic ingredients. Having them in powders means they're easy to use in so many different ways, from smoothies to baking to sprinkling on porridge and salads.
I've adapted this recipe from Sally's Baking Addiction and swapped some of the ingredients to make these cookies healthier and more nutritious. Please don't compare Sally's perfectly round cookies to mine, I was going for the rustic look *side eyes*. I want to make these cookies again and experiment with swapping out the brown sugar for honey, maple syrup or Truvia/stevia. If there are any favourite recipes that you'd love me to adapt to be healthier just let me know! I'm excited to finally be regularly sharing recipes with you all on the blog.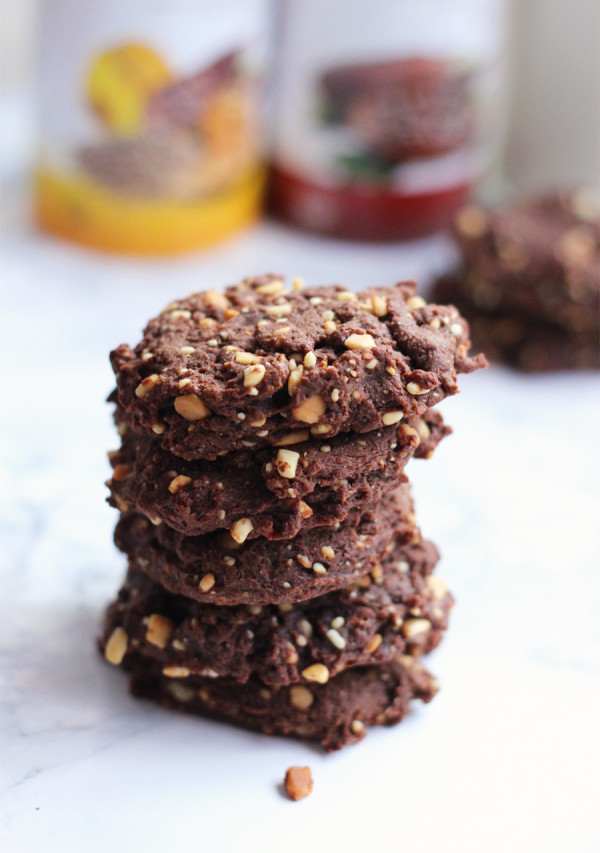 Now, onto the cookies. Let me know if you make these in the comments below, or tweet me or tag me in your picture on Instagram. I'm @GymbagsGladrags on Twitter and Instagram.
PREP TIME
10 mins
COOK TIME
10 mins
TOTAL TIME
20 mins
These Flourless Chocolate and Peanut Butter cookies pack a nutritious by using the superfoods Cacao, Maca, Lucuma and Hemp Protein. Gluten free, dairy free and vegan these cookies hit the spot when you're craving a sweet treat.
Author: Cantara
Recipe type: Dessert
Serves: 10-12 cookies
INGREDIENTS
1 cup Crunchy Peanut Butter

2 Medium Eggs

3 tbsp Bioglan Superfoods Cacao Powder

1 tbsp Bioglan Superfoods Engergy Boost Powder

⅓ cup Light Brown Sugar (lightly packed)

½ tsp Vanilla Extract

1tsp Baking Soda
INSTRUCTIONS
Preheat the oven to 170 degrees celsius and line two baking trays with parchment paper

Beat the two eggs in a medium-sized mixing bowl

Add in the rest of the ingredients and mix together

Spoon the mixture into 1-tbsp sized cookies and use the back of the spoon to gently flatten each cookie. Split the cookies between the two baking trays so that there are 5-6 cookies on each.

Bake in the oven for 10-12 minutes. I baked mine for 11 as I wanted more of a crunch on the outside. Allow the cookies to cool on the baking trays before transferring onto a wire rack to completely cool before you tuck in.
This post was in collaboration with Bioglan Superfoods to superpower the lives of women who are Body Happy like me. For more recipes and tips on superfoods head to the Superfoods Hub or check out their Instagram or Twitter for more inspiration. All thoughts, opinions, recipes and tastebuds are my own.