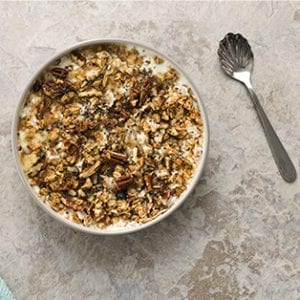 Five Summer Dishes Made Even Better with a Spoonful of Superfoods
Fresh fruit salads for breakfast, all-day barbecues and zingy salads – one of the best things about summer is undoubtedly the menu. This year, we're making our favourite seasonal recipes even better by adding a spoonful of our very own superfood powders wherever possible.
Here are five hacks for super-powering your summer mealtimes.
For the barbecue: cacao-rubbed steaks
Before you throw your steaks on the barbie, rub them down with a sprinkling of Bioglan Superfoods Cacao Powder. The intensely savoury nuttiness works well with the smoky barbecue flavours and makes a nice change from the usual burgers and sausages. (P.S. it's also delicious on cauliflower).
Great for: Cacao is one of the most antioxidant-rich superfoods around, boosting energy levels as well as your mood.
For something sweet: grilled pineapple with acai crème fraîche
Once you've polished off those cacao-rubbed steaks, you'll be in the mood for something sweet, and this easy-peasy pud never fails to hit the spot. Simply slice pineapple and pop it onto the grill for a couple of minutes on each side. While it's cooking, stir a teaspoon of Bioglan Superfoods Acai Powder into crème fraîche, ready to dollop over the pineapple once it's dished up.
What it's good for Acai supports a healthy immune system, keeps us feeling energetic, and boosts our digestive health.
For a picnic: kale hummus
A good pot of hummus is a picnic essential, so why not superpower it with the help of a dash of Bioglan Kale Powder? Make your own from scratch by following our recipe, or cheat a little by stirring a spoonful into shop-bought hummus. No one will ever know!
Great for: Kale helps to build strong bones and a powered-up immune system thanks to a healthy dose of Vitamin C and calcium.
For when the weather turns: Supergreens veggie curry
It just wouldn't be a British summer without an unseasonable downpour or two. For when the inevitable hits, a superfood-rich veggie curry will transport your taste buds to warmer climes. Simply chop and sautee onions, stir in curry powder, spices, and a spoonful of Bioglan Superfoods Supergreens, add chopped tomatoes and as many of your favourite vegetables as you can get your hands on. Simmer (or stew in a slow-cooker) until the veg is tender and enjoy with rice.
Great for: Packed with multiple portions of fruit and veg as well as a plethora of multivitamins, Bioglan Superfoods Supergreens powder helps you hit your five-a-day (and beyond) with ease.
For breakfast in the sunshine: granola with chia + flax
A bowl of yoghurt, berries and granola is made all the more superpowerful with a spoonful of superfoods and a side serving of morning sunshine. To make it, stir together roughly chopped nuts, oats, Bioglan Superfoods Chia + Flax, cinnamon and a drizzle of honey or syrup before spreading the mix evenly across a baking sheet and baking in the oven until crisp. Keep it in an airtight jar and look forward to waking up to it every morning.
Great for: Chia + Flax is a winning combination for better digestion, healthy skin, hair and nails.