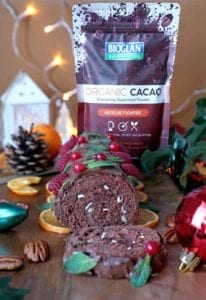 Festive Cacao Yule Log
December is a busy month for us all, we're racing the clock to meet deadlines before the Christmas break, frantically buying gifts, all the while trying to keep that festive balance! And, just to add another layer to the Christmas chaos, there are multiple holiday party obligations too…
During the season of perpetual partying, chances are you'll either be hosting a party, or at least attending one. Don't let the Christmas chaos overwhelm you and turn up empty handed! This Festive Cacao Yule Log is a cinch to make, fueled with goodness, and guaranteed to wow your friends.
Unlike regular cocoa powder, raw Cacao powder not only gives you that hit of chocolate-y indulgence, but it also gives a healthy helping of antioxidants, ensuring you maintain that healthy balance!
For the sponge:
3 large eggs

100g coconut sugar

75g buckwheat flour (or flour of choice)

25g Bioglan Cacao powder

1 tsp cinnamon

15ml hot water
For the filling:
180ml coconut cream

60ml maple syrup

10g Bioglan Cacao Powder

A little milk if needed

60ml Crushed Pecans
Method:
Preheat oven to 220⁰C/425⁰F/Fan 200⁰C/Gas Mark 7. Line a 33.6cm x 22.5cm Swiss roll tin.
Put the eggs and sugar into a bowl and whisk until very light and creamy. Sift together the flour, cinnamon and cacao powder before gently folding half of the flour into the whisked mixture.
Fold in the remaining flour, making sure it has all been incorporated and there are no lumps.
Stir in the hot water.
Pour the mixture into the prepared tin and smooth over evenly.
Bake in the oven for 7 – 9 minutes until well risen, golden brown and spongy.
Once cooked, turn out the cake quickly onto a piece of greaseproof paper and trim away the edges so that it's a neat rectangle.
Place a second sheet of paper on top of the sponge and roll it up loosely.
Leave to cool completely on a cooling rack.
To make the filling:
Put the coconut cream into a bowl before sifting in the cacao powder with a little milk and the maple syrup – cream everything together well until very smooth.
Fold in the crushed pecans.
When the sponge is completely cold gently unroll it and remove the paper.
Spread the sponge with the cream filling.