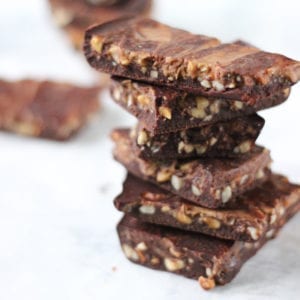 Chocolate and Peanut Butter Bark by Gymbags and Gladrags
If you're like me and sick of overindulging on all the sweet treats on offer over Christmas then this easy-to-make recipe for a healthier Chocolate and Peanut Butter Bark is perfect for you. Store it in the freezer so that it's ready for when you fancy something sweet without overindulging and adding to the Christmas bulge.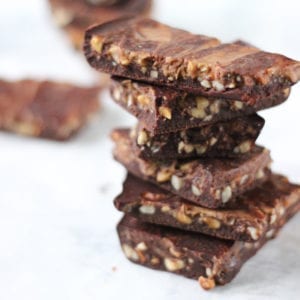 The saltiness and crunchiness of the peanut butter next to the creamy sweetness of the 'chocolate', which is actually made from Bioglan Superfoods Cacao… It's just perfect. Plus, cacao is naturally high in fibre and protein, it fights fatigue and antioxidising. So, put down the chocolate selection boxes and whip up these sweet treats instead.
RECIPE: CHOCOLATE AND PEANUT BUTTER BARK
PREP TIME
2 mins
COOK TIME
1 hour
TOTAL TIME
1 hour 2 mins
A healthier Chocolate treat made from cacao which is high in fibre, protein and antioxidants.
Author: Cantara from Gymbags and Gladrags
Recipe type: Dessert
Serves: 12-16 pieces
INGREDIENTS
½ cup of Bioglan Superfoods Cacao
½ cup of coconut oil
½ cup of honey
½ cup of crunchy peanut butter
2tbsp coconut oil
INSTRUCTIONS
Ensure the coconut oil is at room temperature so that it is runny.
Line a baking tray or ceramic dish with greaseproof paper
Mix the raw cacao and honey with the coconut oil in a small to medium sized bowl
Pour the chocolate mixture into the baking tray and using a spatula smooth out until it's an even thickness all the way around.
Melt the peanut butter either on the hob or in a microwave, then mix in with the 2tbsp of coconut oil
Pour the peanut butter mixture on top of the chocolate mixture in the baking tray.
Using a knife, swirl the peanut butter mixture into the chocolate mixture.
Freeze for 30mins to 1 hour until solid before breaking into chunks. Serve immediately or store in the freezer for whenever you fancy a sweet treat.
That's all there is to it. I hope you love this recipe as much as I do, let me know if you make it.