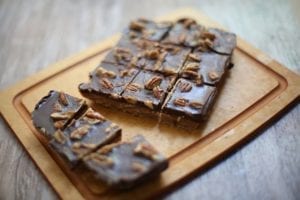 Caramel Fudge With A Chocolate-Pecan Ganache
by Naturally Sassy
I'll be the first to admit food is on my mind 24/7; I'm constantly dreaming up new things I want to make in the kitchen, the majority of which are sweet treats! This Almond butter caramel fudge with a chocolate-pecan ganache was no sooner thought of than it was created. All the ingredients I had lying around the kitchen, and I couldn't think of a more delicious way to use them up.
The base layer is simply made from almond butter, coconut oil and agave (or pure maple syrup). The rich roasted almonds with the silky coconut oil and sweet agave nectar makes for the most life-changing combination – I'm all too obsessed. Whilst this mixture is incredible at forming a good fudge texture, if you leave it out of the freezer for long you'll have a rather melted smoothie looking sweet treat.. so make sure you don't leave it out for too long! Then on top of this fudge we have a thin chocolate ganache with salted pecans. The chocolate adds a nice crunch to each bite, and the pecans help to bring the sweetness down, and make it all a little more grounded. The better the cacao/cocoa powder the more delicious the fudge tastes. I use Bioglan's Cacao powder to get the best quality taste, as it truly makes all the difference. This is a base recipe for so much experimenting – you can change the almond butter for peanut butter, and pecans for salted pecans! Mmm, mm, mm!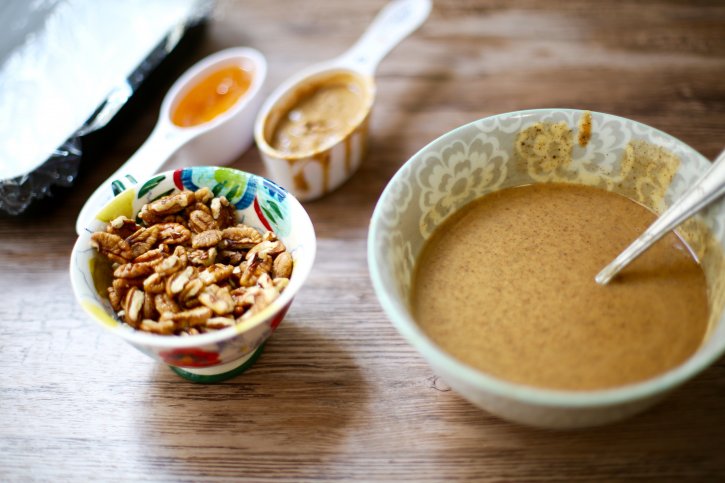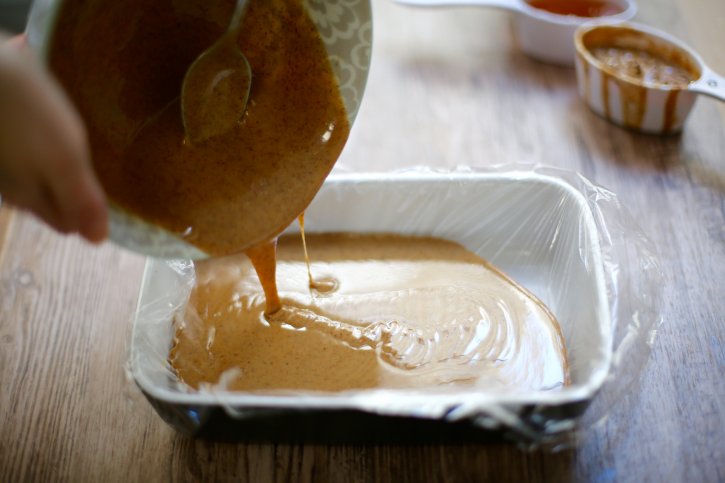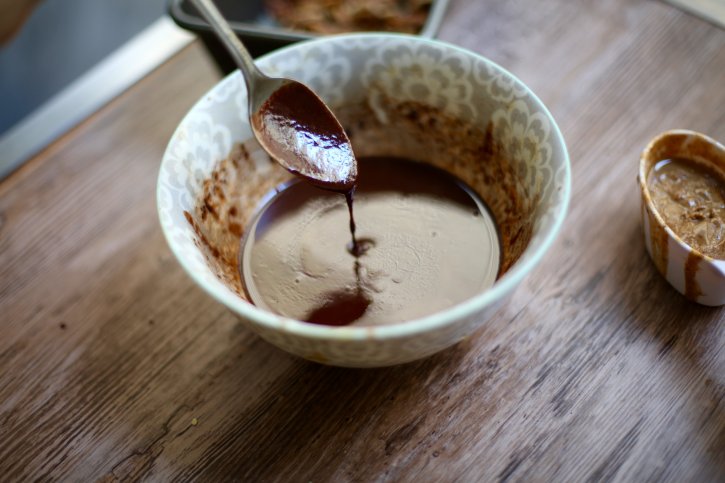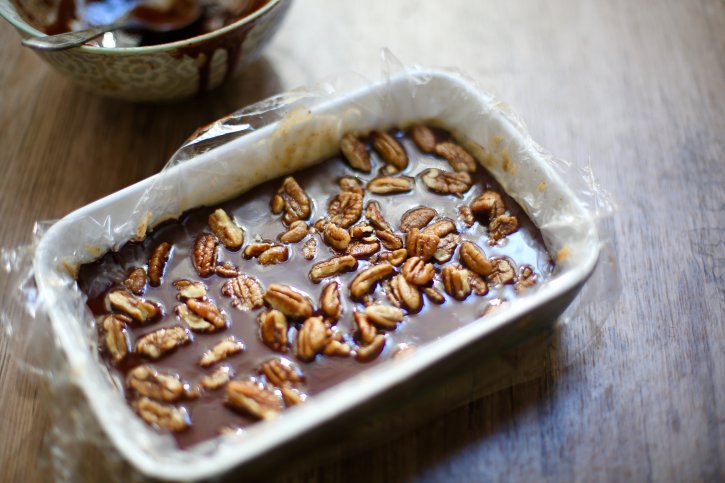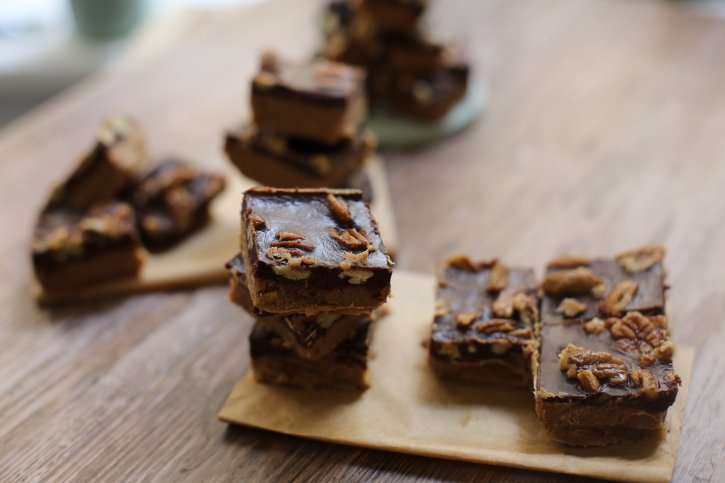 ALMOND BUTTER CARAMEL FUDGE
1.5 cups of almond butter
1/2 cup of melted coconut oil
1/3-1/2 cup agave (how sweet you like it)
a pinch of salt
CHOCOLATE GANACHE
1/4 cup melted coconut oil
1/4 cup agave
1/3 cup pecans (+ a pinch of salt)
METHOD
Preheat the oven to 190 degrees celsius.
Start by making the fudge. Melt the coconut oil and add the almond butter, coconut oil, agave and a pinch of salt to a mixing bowl. Mix really well until it's a smooth silky mixture. Pour into a medium-high sided baking dish, lined with parchment paper. Place in a freezer for around 20 minutes to set, or until the top is solid.
Meanwhile make the chocolate ganache. Put the pecans on a tray and add a pinch of salt. Roast them in the oven for around 10 minutes (checking after 5 minutes to make sure they don't burn). To make the chocolate add the melted coconut oil in a bowl with agave and cacao/cocoa powder. Mix quickly until totally smooth. When the fudge is set add the chocolate on top, spreading evenly. Scatter the pecans on top and place back in the freezer for at least 30 minutes. An hour is ideal, to make sure it really sets. Store in the freezer at all times!