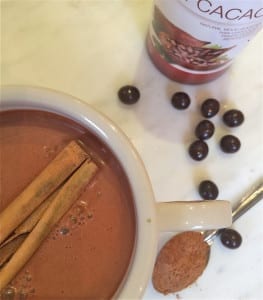 Cacao to Be Happy by Poppy Cross
With the most depressing day of the year now behind us, there's every reason to celebrate. And what better way to do this than with a spoonful of happy magic, aka cacao. Studies show that cacao may reduce your risk of cardiovascular disease and reduce your blood pressure, but it can also significantly improve your mood.
Raw cacao, which you can buy from Bioglan Superfoods is the purest form of chocolate you can consume, which means it's much less processed, has no added sugar and significantly higher in antioxidants than plain old cocoa powder or shop-bought chocolate bars.
In one study, participants were given a dark-chocolate drink to consume for 30 days, which contained 500 milligrams, 250 milligrams, or 0 milligrams of polyphenols (the chemicals in plants that have antioxidant properties). The findings? The participants who received the highest dose of cocoa experienced a significantly higher rate of calmness and happiness than those who drank the placebo.
So, if you could use a spoonful or two of extra happy in your day, raw cacao is an ingredient to try. It's also delicious. Below are just some of the ways I like to get my extra happiness fix using Bioglan Superfoods Raw Cacao Powder. See bottom of this post for each method.
Hot cacao
2.Cacao Porridge The rich, sweet, nutty pan-cooked coconut almonds with the cacao make this taste wonderfully rich and indulgent.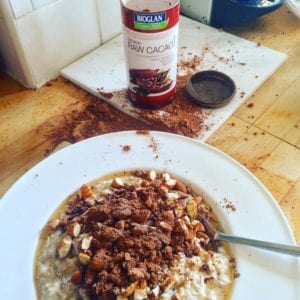 3. Cacao Protein Shake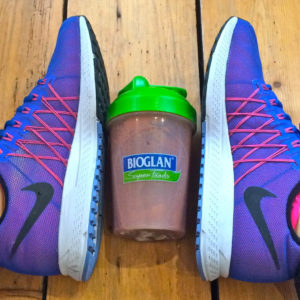 Hot Cacao (serves one)
Ingredients:
2 tablespoons cacao powder
large cup of coconut water (500ml)
Sprinkle of cinnamon
2 drops of vanilla extract
Method:
Sieve the cacao powder into the coconut water. You can also mix in the cacao powder using a shaker. Add a sprinkle of cinnamon and 2 drops of vanilla extract. Stir over high heat until hot but not boiling. Serve!
* If you want a creamier version try using coconut milk and coconut cream instead of the coconut water. Those with a sweet tooth can always add stevia for extra sweetness too.
Cacao Porridge (serves one)
Ingredients:
45g Oats
two handfuls of chopped almonds
1 cup of almond milk (or milk of your choice)
sprinkle of cinnamon
1 tablespoon of chia seeds
1 tablespoon of cacao
honey (amount up to you) for the topping
N.B. Don't aim to make yours look like mine! I've just included this picture to show the reality of what happened when I got over-excited about my cacao porridge!
Add your oats to the pan with your choice of milk (I use almond milk). Stir over a high heat. Sprinkle in some cinnamon, cacao and a tablespoon of chia seeds. Stir frequently. Meanwhile, chop the almonds and add to another saucepan over a high heat along with the coconut oil. Cook for one minute. Remove from the heat. As your porridge starts to bubble remove from the heat. Serve in a bowl and add the cooked almonds on top. Sprinkle some additional cacao over the porridge and and top with honey (optional).
Cacao Protein Shake
Ingredients:
1/2 cup coconut water
1/2 cup almond milk (your choice of milk)
1 scoop of  vanilla protein powder (I use Neat Nutrition's Lean Vanilla)
1 tablespoon of cacao powder
Add one tablespoon of cacao powder to the coconut water and the almond milk. Add your choice of protein powder and shake.