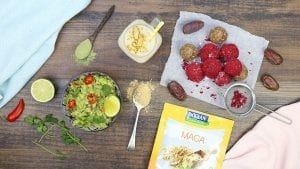 A marathon of nutrition: Three recipes worth running for
With the London marathon fast approaching, running is very much the sport du-jour right now. Whether you've spent the winter months getting up at the crack of dawn to train in the bitter cold, or just decided to take up running now the weather's perked up, giving your body the fuel it needs is an essential part of any training plan. Striking the right balance can be tricky – if you don't eat enough you'll crash, but eat too much and you'll cramp. Minefield!
We've come up with three recipes for nutrient-packed snacks that will help to fuel you pre-workout and replenish you post-workout, so all you have to worry about is getting out there!
Bioglan Superfoods Chia + Flax Bliss Balls
Great for: Re-energising right after a workout, or powering-up before one
To make 12, you'll need:
100g oats
20g freeze-dried raspberries
7 medjool dates, stones removed
2 tbsp nut butter (we love crunchy almond)
1 tbsp Bioglan Superfoods Chia + Flax
Make them:
Tip the oats into a food processor and pulse until you get a flour-like texture. Transfer to a mixing bowl and set aside.

Wipe out the blender and then place the freeze-dried raspberries inside and pulse until you get a bright pink powder. Tip into another bowl.

Wipe any excess from the blender and add the dates, nut butter and a splash of water. Pulse until you get a paste.

Add the oat-flour back into the blender with the

Bioglan Superfoods Chia + Flax

and pulse until the mixture combines and starts to come away from the sides. The texture will be quite sticky.

Roll into balls, placing them onto a tray lined with baking parchment.

Roll each ball (while they are still sticky) in the freeze-dried raspberry powder to coat them fully in pink dust.

Set in the fridge for a minimum of two hours and store in an airtight box for up to a week.
Bioglan Superfoods Maca Smoothie
Great for: A caffeine-free energy boost
Per portion, you'll need:
1 banana
1 tbsp Bioglan Superfoods Maca
2 tbsp rolled oats
250ml coconut milk
1 tsp honey or agave syrup
Make it:
Combine all the ingredients in a blender and whizz until smooth.

Slurp through a straw!
Bioglan Superfoods Green Boost Guacamole
Great for: Snacking on a few hours before longer runs.
For two servings, you'll need:
1/2 ripe tomato
1/2 small red onion
1 large ripe avocado
1 tsp Bioglan Superfoods Green Boost
Salt and pepper (to taste)
Juice of half a lime
1 small red chili
A few leaves of coriander
Make it:
Start by dicing the tomato finely. Pop into a bowl and set aside.

Peel and dice the onion and add to the bowl with the tomato.

Half the avocado and remove the stone. Scoop out the flesh, mash with a fork and then stir into the tomato and onion mixture.

Stir through the tablespoon of

Bioglan Superfoods Green Boost

as well as a pinch of salt and pepper.

Squeeze in the lime juice, stir through, and garnish with some chopped chilli and coriander.