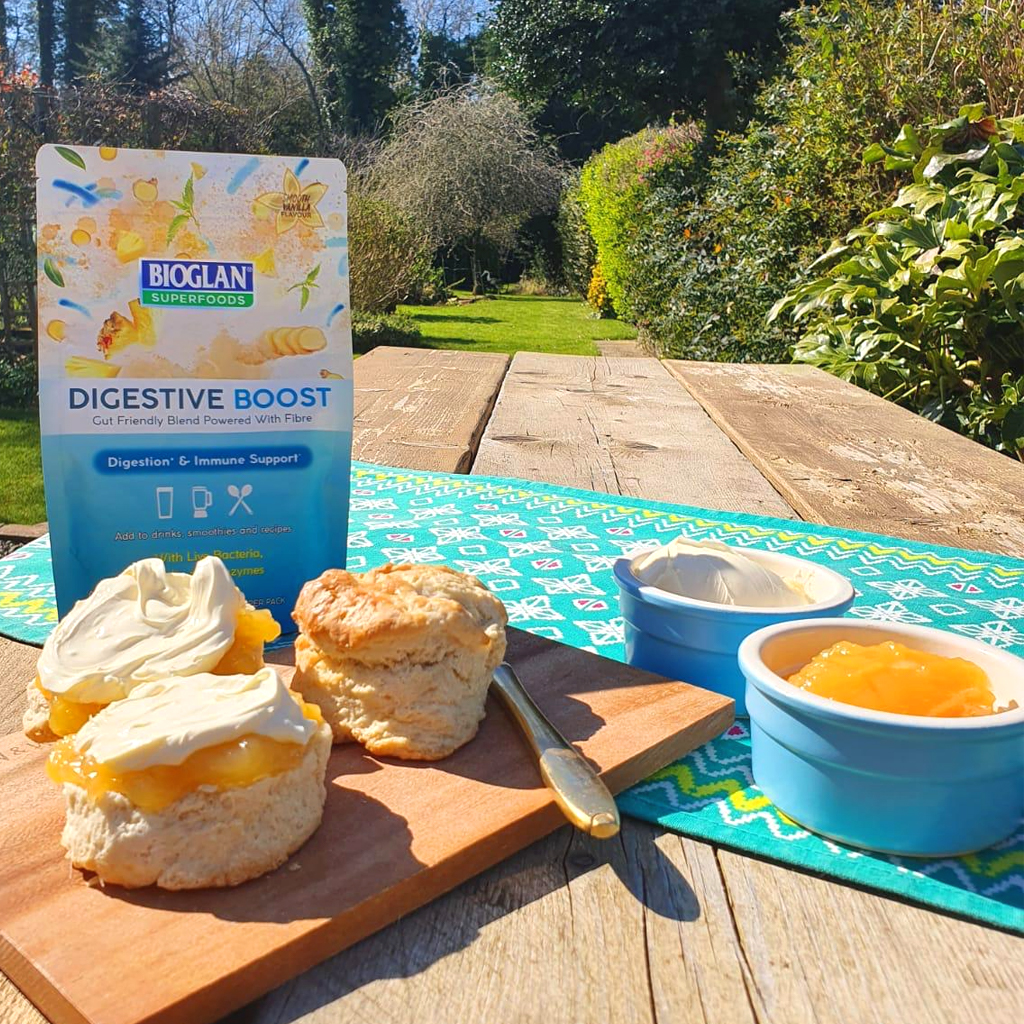 Zesty Scones
with Digestive Boost

Makes 8 scones

Thirty Minutes
Anyone else missing their favourite afternoon tea while we are all indoors? Why not set up your own to mix up your weekend lunch and include these scones and lemon curd with our Digestive Boost – they're simply the zest!
Ingredients
Buy ingredients online at your selected retailer
For the scones:
350g self raising flour, plus more for dusting
¼ tsp salt
1 tsp baking powder
85g butter, cut into cubes
45g caster sugar
175ml milk, plus a little extra to glaze
Squeeze of lemon juice
For the topping:
1 jar shop bought lemon curd (or you could make your own)
1 tbsp Bioglan Superfoods Digestive Boost
Clotted cream
Method
1. Preheat oven to 220C/fan 200C/gas 7
2. Sift the flour into a large bowl and add the baking powder and salt. Mix well
3. Add the butter and rub in with your fingertips until the mixture resembles fine breadcrumbs then stir in the caster sugar
4. Gently heat the milk in a pan or microwave until slightly warm, add a squeeze of lemon juice and set aside for 2 minutes
5. Make a well in the centre of the flour mixture then slowly pour in the milk and lemon juice. Stir with a round-bladed knife to combine into a sticky dough
6. Scatter some flour onto the work surface and tip the dough out. Fold the dough over a few times until the surface is smooth, then pat in into a rough round about 4cm thick
7. Use a round cutter to cut out four scones. We used a 5cm one, but you can make bigger or smaller if you wish. Place onto a baking tray and press the dough back together to cut out four more.
8. Brush the tops with milk and bake for 10 minutes. Whilst the scones are baking, combine a jar of lemon curd with 1tbsp of Digestive Boost for the filling.
9. Leave to cool on a wire rack until the scones are just warm and serve with the lemon curd and clotted cream.
10, Enjoy!