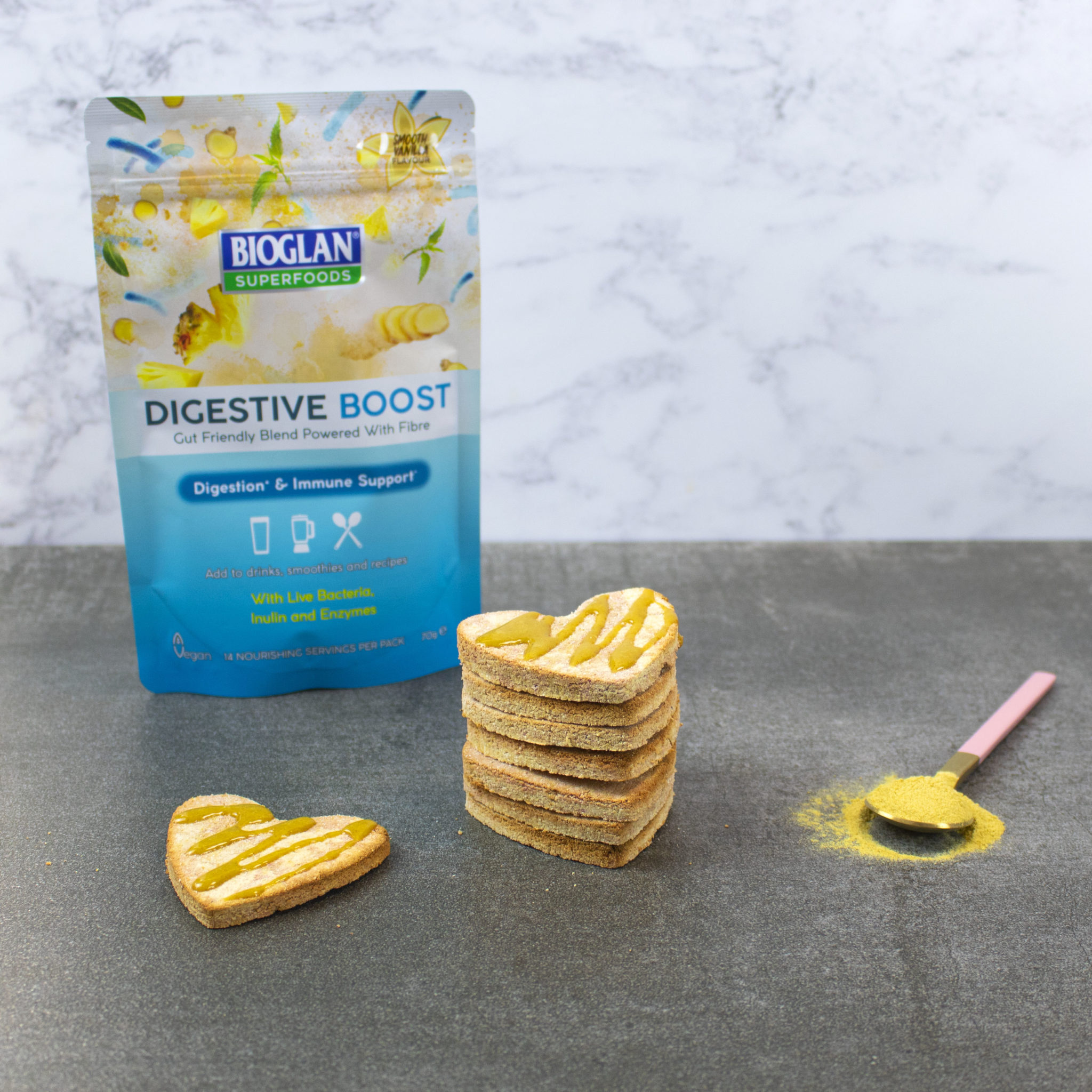 Vegan Oaty Biscuits
with Digestive Boost

12-20 depending on size of your cookie cutter

Thirty Minutes
With February being the month of love, these are the perfect biscuits! They're vegan and include our brand new Digestive Boost powder which is a microbiome-friendly blend of live bacteria, fibre and digestive enzymes.
Ingredients
Buy ingredients online at your selected retailer
220g spelt flour
50g oats
Pinch of salt
1 tsp bicarbonate of soda
1 tbsp Bioglan Superfoods Superberries
50g brown sugar
80g coconut oil or vegan butter, split into two
90ml oat milk, split into two
Extra flour for sprinkling
4 tbsp icing sugar
1 tbsp Digestive Boost
Method
Preheat oven to 190°C/380°F and line a baking tray with greaseproof paper. Add the oats to a food processor and process until they have a course flour like consistency. Tip into a medium sized bowl.
Add the coconut flour, salt, bicarbonate of soda and sugar and stir to combine. Then transfer half of this mixture into a separate bowl, then stir in the Superberries powder to one of the bowls. You should now have one bowl with a pink mixture and one with white.
If the coconut oil/vegan butter is not already melted, put it in the microwave for around 1 minute, then add to the bowls with the rest of the ingredients and stir until is it well combined.
Gradually add the oat milk one tablespoon at a time until a smooth dough forms in each of the bowls. You may need to add more if your dough is too dry and it should feel slightly wet to the touch.
Dust your work surface with flour and tip the dough onto it. Sprinkle with even more flour to stop the rolling pin from sticking. Take the white dough and roll it into a long sausage shape, then do the same with the pink dough and line them up next to each other. You can now combine the two colours to give a marbled effect.
Roll out the combined marbled dough to a thickness similar to a £1 coin, then use a cutter to achieve the desired shape. Carefully transfer the biscuits to the lined baking tray.
Bake for 12-15 minutes or until just starting to turn golden brown on the edges and bottom. They will not be completely solid in the centre when you first take them out of the oven, but they will harden up as they cool.
Place on a cooling rack and leave to cool completely whilst you make the icing.
To make the icing, combine the icing sugar with the Digestive Boost powder and gradually add in water half a teaspoon at a time, until you reach the desired consistency.
Once the biscuits have cooled completely, drizzle or spread the icing over the top and leave to set before enjoying.