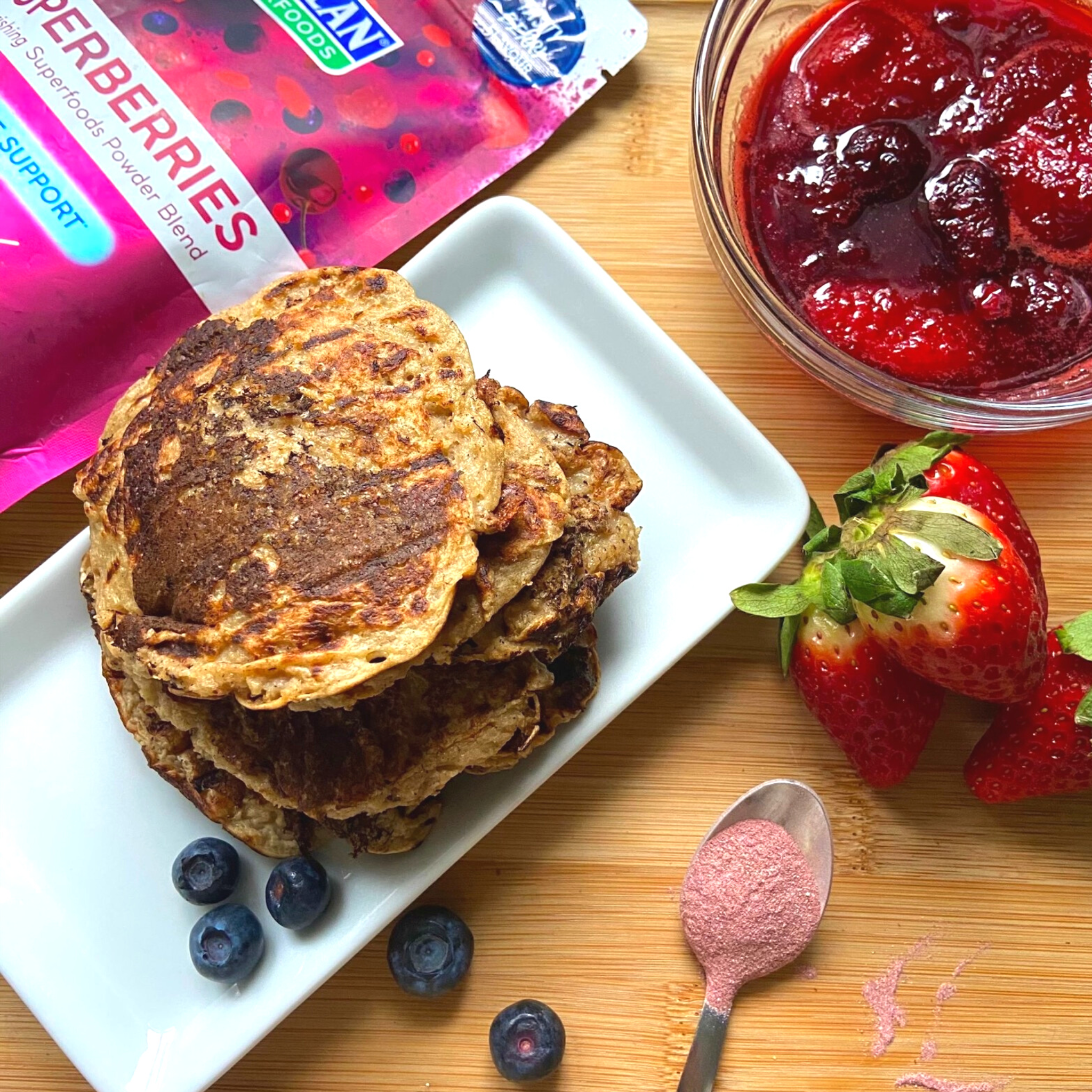 Vegan Oat and Banana Pancakes with Superberries Compote

2

Twenty minutes
If you like to include one of your 5-a-day in your pancakes, then try our Vegan Oat and Banana Pancakes. We've created a compote using our Superberries blend, to give an extra berry burst.
Ingredients
Buy ingredients online at your selected retailer
1¼ cups oats
2 ripe bananas
½ cup plus 2 tbsp dairy-free milk
1½ tsp baking powder
½ tsp ground cinnamon
¼ tsp kosher salt
½ tsp vanilla extract
Coconut oil for the pan
Maple Syrup to serve (optional)
For the compote:
1 tsp Bioglan Superfood Superberries
500g mixed berries (blackcurrants, blueberries, raspberries, redcurrants, strawberries)
50-85g golden caster sugar
Method
1. Blitz 1 cup of oats in a food processor for about 1 minute, until finely ground but with some texture remaining,
2. Peel 1 banana and tear into large chunks. Add to the food processor along with the dairy-free milk, baking powder, cinnamon, vanilla and salt. Blitz, stopping to scrape down sides as needed, until well combined. Remove bowl from base and stir in the remaining oats. Let sit 15 minutes; it should be slightly thickened.
3. While the mixture is thickening, thinly slice remaining banana and set aside.
4. Heat 1 tsp oil in a 10/12" non-stick frying pan over medium-high heat. Working in batches of 2 or 3, ladle in ¼ cup batter per pancake and flatten slightly with a spatula. Arrange a few reserved banana slices on top, then reduce heat to medium, and cook until set and golden brown underneath, 2–3 minutes. Flip pancakes over and cook on other side until golden brown, 1–2 minutes. Transfer to a large plate. Repeat with remaining batter, adding more oil to pan between batches as needed.
5. Make the compote by tipping the berries into a large pan with 2-3 tbsp water, 1 tsp Superberries powder, and sugar to taste. Bring to the boil then simmer for 3-5 mins. Don't overcook, or the berries will not hold their shape. Serve on the side or pour over your pancakes. For extra sweetness serve with maple syrup and enjoy!