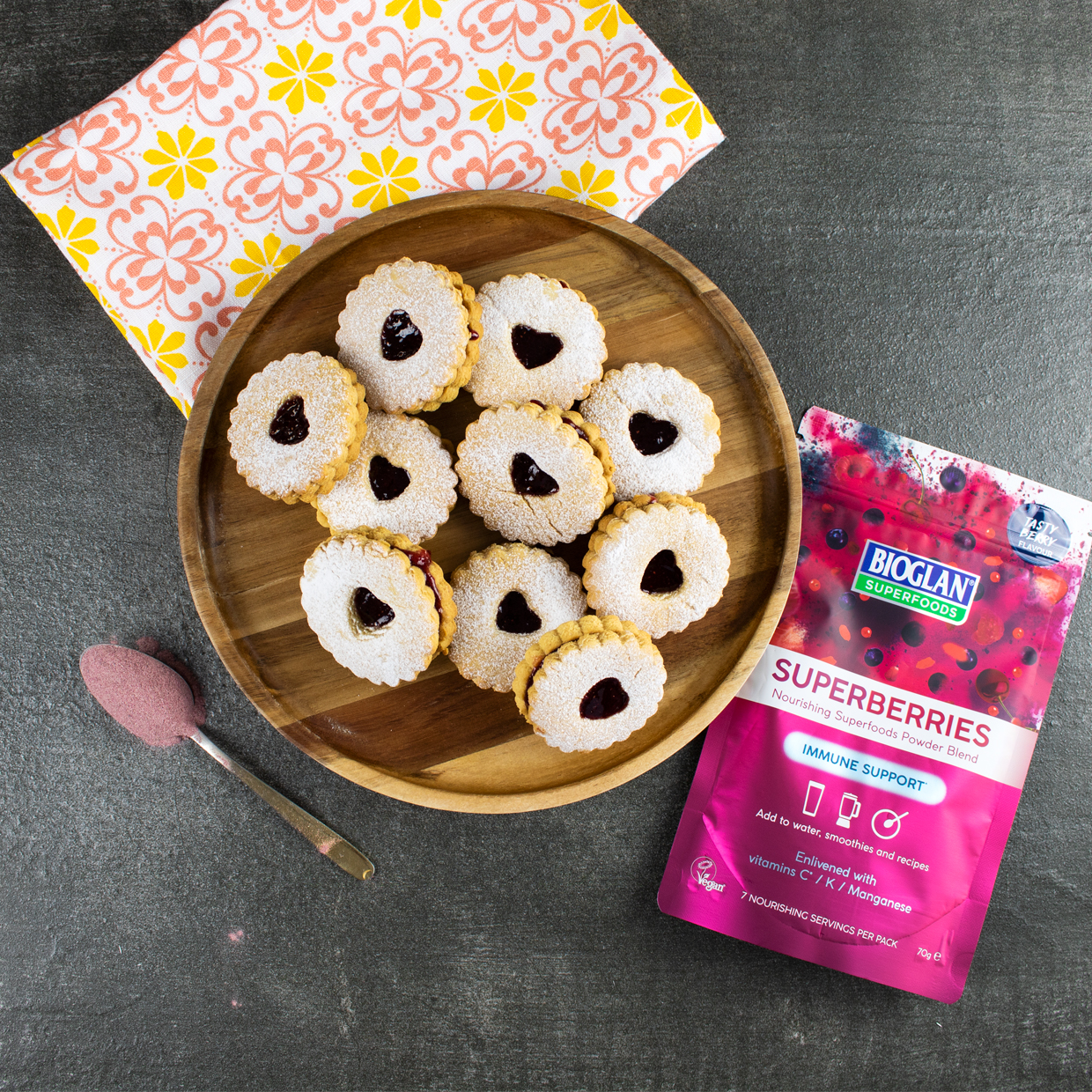 Vegan Jammy Dodgers
with Superberries

20-40

2 Hours
These vegan Jammy Dodgers are so soft and crumbly and the added Superberries powder to the jam gives them the most berrylicious smell! You can get up to 40 biscuits from this recipe depending on the cutter size you use.
Ingredients
Buy ingredients online at your selected retailer
350g plain flour
1 tsp bicarbonate of soda
140g dairy-free margarine
100g caster sugar
3 tbsp golden syrup
1 tbsp vanilla essence
150gm jam (we used strawberry)
1 tbsp Superberries
Icing sugar to dust
Method
Mix the plain flour and bicarbonate of soda
In another bowl, cream together the margarine, golden syrup, caster sugar and vanilla essence.
Start adding the flour a little at a time to the creamed mix and begin kneading to form your biscuit dough.
Once it's all come together and formed, wrap your dough in cling film and refrigerate for at least an hour. You can leave it overnight if you prefer to prepare your biscuit dough beforehand.
Once chilled, pre-heat your oven to 180 degrees. Dust your worktop with some plain flour and roll out your dough cutting out your shapes with a cookie cutter.
Use a separate cutter with the shape of your choice to cut out a space in the middle on half of your biscuits
Place them on a baking tray and place in the over for 8-10 minutes. You want them to be a light golden brown colour.
Once baked, cool them down before dusting your biscuits with the cut out shape in the middle with icing sugar (it's best to do this before you sandwich them together so you keep your jam in the middle free from icing sugar).
Mix your chosen flavour of jam with the Superberries mix and spoon some mix on the full shaped biscuits keeping the most jam in the middle for the biscuit.
Press down with your dusted biscuit.