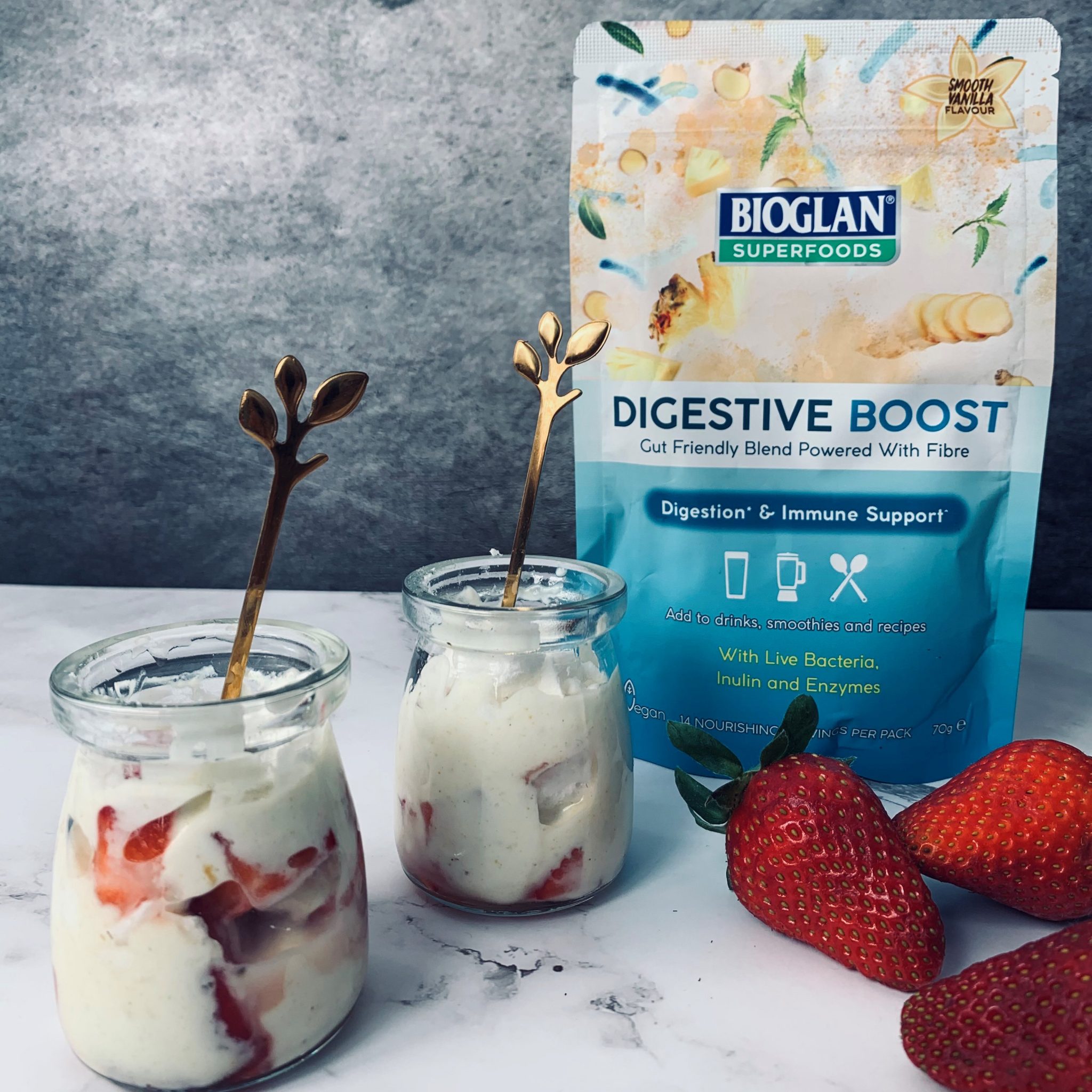 Vegan Eton Mess Pots
with Digestive Boost

2

Two Hours Thirty Minutes
A lovely, refreshing dessert with Digestive Boost especially during the summer months. Great to make ahead if you've got people coming over – you could even buy vegan meringues to make it even easier!
Ingredients
Buy ingredients online at your selected retailer
For the vegan meringues:
150 ml of aquafaba
110 g of caster sugar
½ teaspoon of apple cider vinegar
Filling:
1 cup of strawberries
100g plant-based yoghurt
1 tsp Bioglan Superfoods Digestive Boost
Method
1. To make the meringues, pour the aquafaba from your can of chickpeas into a mixing bowl. Using your mixer, beat the liquid until it starts to form peaks (should take about 5 minutes or so) then add the apple cider vinegar and continue to beat until firm peaks form (should take another five minutes).
2. Add the caster sugar a little at a time until all has been mixed in.
3. Heat the oven to 100°C/210°F and while waiting for it to warm up, line a baking tray with baking paper.
4. Add your mixture to a piping bag and snip off the end so you can pipe the meringues onto your baking paper in small circles, as you pull away from the piped mixture you should get a small peak.
5. Place baking tray in the preheated oven and bake the meringues for 1 hour and 15 minutes and make sure you leave the oven door closed so they don't deflate!
6. After this time, turn off the oven and open the oven door a little keeping the baking tray with the meringues still inside the oven for about 40 minutes, so that they dry out completely.
7. Once they are removed and cooled, you can start assembling the pots! Begin by chopping the strawberries and layering them at the bottom.
8. Mix the yoghurt and Digestive Boost together and top the strawberry layer with the yoghurt.
9. For the next layer, add some meringues, if you've got small pots it might be easier to crush them a little.
10. Repeat the above steps until you teach the top! Enjoy.