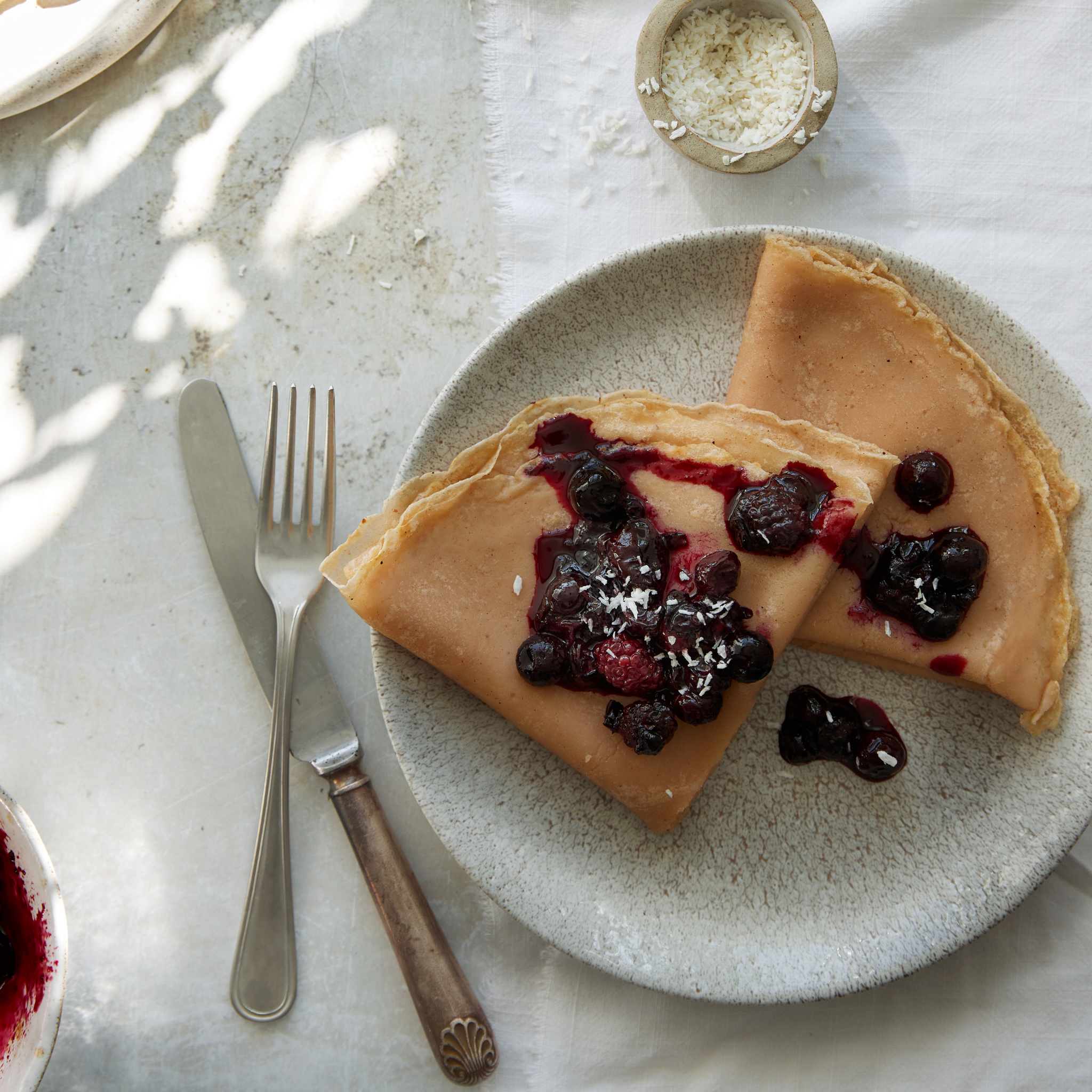 Vegan Crepes with Strawberry Compote and Superberries

4

Thirty minutes
Try our vegan twist on the classic French recipe, with our Vegan Crepes with Strawberry Compote and Superberries. Perfect if you love a sweet treat at the weekend.
Ingredients
Buy ingredients online at your selected retailer
250g plain flour
½ tsp baking powder
1 tsp Bioglan Superfoods Superberries powder
¼ tsp salt
600 ml unsweetened non-dairy milk (we used soy)
2 tbsp neutral oil (sunflower/vegetable/mild olive/rapeseed etc) or melted coconut oil
1 tbsp maple syrup (optional)
Berry Compote:
400g mixed frozen berries
2 tbsp water
3 tbsp sugar
Method
1. Place the flour, Superberries, baking powder and salt in a large bowl. Whisk in the milk a little at a time to avoid lumps. Continue to whisk until it is all incorporated and the mixture is smooth, then whisk in the oil and maple syrup (if using). Set the batter aside to rest while you make the sauces.
2. When you are ready to cook the crepes, place a non-stick frying pan over a medium-high heat. Add a small knob of vegan spread or coconut oil then wipe out the pan with kitchen roll; you just want it to be lightly greased.
3. Add a ladleful of the batter and swirl the pan to coat. Cook for a couple of minutes until the underside of the pancake is golden, then carefully flip it over and continue to cook for about 30 seconds, until lightly browned. The pancakes will shrink a little as they cook.
4. Slide the pancake onto a plate and repeat the greasing and cooking until you have used all of the batter.
5. Make the berry compote. Place the berries, water and sugar in a pan over a medium heat and bring up to a simmer. Allow to simmer gently for 5-10 minutes until the berries are soft. Taste and add more sugar as needed.
6. To serve, top the crepes with the berry compote. Enjoy!